Are you looking for Beer Pong Team Names? Then you are in the right place because here we collect these collections of cool, catchy, and creative name ideas for the beer pong team.
Beer pong is a classic party game involving two teams of players throwing ping-pong balls across a table to land them in cups filled with beer. It's been around for years and has become an integral part of social gatherings, particularly among college students.
But while playing beer pong can be fun on its own, it can also be made even more enjoyable by coming up with creative team names for each side. Not only does this add to the atmosphere by providing some friendly competition between teams, and it gives everyone something to laugh about as they play the game. Team names are a great way to bring fun and humor into any beer-pong match!
A team name is very important for a team. It's the identity of your team and also the first impression. So having a perfect and suitable name for your team is very important. Here are the characteristics of a perfect beer pong team name:
Creative and funny: A beer pong team name should elicit a few chuckles when people hear it. Creativity is key to finding an original, clever team name that will stand out from the rest.
Catchy: Not only should your team name be memorable, but it should also be easy to pronounce and spell.
Short and sweet: Long, convoluted team names can be hard to remember and fit on a beer pong table or t-shirt. Keep it short and sweet for maximum impact.
Reference something familiar: Make your name relatable by referencing something people know and can connect with, such as a famous person, a pop culture reference, or an inside joke.
With these tips in mind, here are some great examples of beer-pong team names to get your creative juices flowing:
Beer Pong Team Names
Shake & Bake
Starlight Excess
Beerkats
Hello Titty
Chicks with Beers
Drink-Spike-Drink
Farfromsober
Trey Pongz
Marvelous Mermaids
Beer pong team names
Incorrigible
The Brew Crew
No Pong Intended
Dodging Under the Influence (DUI)
Looking to Score
Pong-tang
Balls Of Fury
er Anyone?
Trick And Treat
Sink It, Drink It Designated Drinkers
Table Slappers: A team that has mastered the art of table slapping for maximum points!
Sorry for Partying
Let Me See That Pong
Cup Crushers: Nothing stands in their way as they crush their opponent's cups with every throw.
Beer Pressure
Drinking For Pleasure
Beer Ballers: A team that knows how to play ball, especially when it comes to beer pong!
Disco Divas.
Pong My Ride
Team Boozies
The Ponginators
Pint Poppers: They make all other teams pop up with skillful shots and tactics!
Dual Shots
Peter Pong
Barrel Benders: They know how to bend the rules, so they can always win!
She-Mullets
Two-Cup Wonders: These players may only need two cups to secure victory!
To Infinity and B-Pong
Night Capriatis
Team Ratchet: They come ready to turn up and dunk on all opponents!
Beer Barons: Who said living like a baron is only in fantasy? These guys show what it means in real life!
Cool Beer Pong Team Names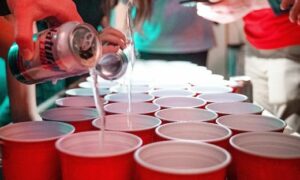 Scared Shotless
To Infinity and B-Pong
"The Hopsters" – a play on the word "hipster" and the team's love of beer
Chilled Perfection
Sink Or Swim
"The Party Pongers" – a fun, party-themed name for a beer pong team
Will Run for Rum
"The Tipsy Titans" – a tongue-in-cheek reference to the team's ability to hold their alcohol
I'll Beer Right Back
Discoholics
"The Boozy Bunch" – a lighthearted name for a group of friends who enjoy playing beer pong together
The Team to Beat
"The Pong Masters" – a nod to the team's skill at beer pong
Balls of Fury
The Potato Throwers
"The Beer Brawlers" – a tough-sounding name for a competitive beer pong team
Egg Toss
That Was Quick
"The Hopheads" – a nod to the hops used in beer brewing and the team's love of beer
Re-rack Attack
beer pong names
"The Suds Slingers" – a playful reference to the act of throwing ping pong balls into cups of beer
Egg Toss
The 12 Steps
"The Pong Pirates" – a fun, playful name for a group of friends who enjoy playing beer pong together
Full of Stimulus
Team Shameless
"The Booze Brigade" – a nod to the team's love of alcohol and their status as a close-knit group.
You Got Swatted
Chuggers
The Sloshed Snipers – A team that takes their beer-pong skills very seriously
Better with Beer
Beer Pressure
Stroke & Brew – Playing with the skill of a pool shark while enjoying great beer.
Team Jagermeister
Sink or Swim
Drunken Ducks – Ducks that are, quite literally, drunk off their feet
PONG-orama – Taking your beer pong game to an entirely new level
The Moonshiners
Unique Names For Beer Pong Team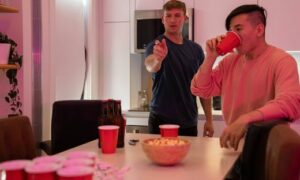 Sweat and Beers
Alcohooligans
"The Hopaholics" – a play on the word "hop" (as in, the hops used in beer) and the team's love of beer
Five o'clock somewhere
TNT
"The Ale Avengers" – a nod to the team's love of ale and their status as beer-pong champions
Always Get It In
Beer Nuts
"The Lager Louts" – a tongue-in-cheek reference to the team's love of lager and their rowdy nature while playing beer pong
Designated Drinkers
Babes and Beers
"The Brewskis" – a slang term for beer and a nod to the team's love of the drink
Sudsy Balls
Guys And Cups
Pong Armstrong
"The Barley Bandits" – a reference to the grain used in beer brewing and the team's mischievous nature while playing beer pong
Drop It Like It's Hot
Bad News Beers
Power Pourers – Teamwork makes the dream work when it comes to achieving success in beer pong
Ping Pong Beers
Sploosh
Beer Bangers – Getting loud and making a splash when it comes to playing beer pong
Six Pack Attacks
The Flaming Moes
Bucket List Brewers – Aching to get that winning experience at least once
Chicks with Beers
Super Splash Bros
The Shot Blasters: A team that loves to make shots and blast the competition.
Beer Raiders
That Was Quick
Pong Pirates: Taking control of the game and making everyone else walk the plank.
Wet Balls
team names
"The Pong Posse" – a cool-sounding name for a group of friends who enjoy playing beer pong together
Babes and Beers
Fly Girls.
"The Brew Crew" – a nod to the team's love of beer and their status as a tight-knit group.
Milk, Milk, Lemonade
Net Gain
"The Foamy Fanatics" – a playful reference to the foam on top of a freshly poured beer
Get Smashed
Beer pong
"The Drunken Dragons" – a tough-sounding name for a competitive beer-pong team
Sudsy Balls
Shootin' Tanks
"The Pint Pounders" – a nod to the team's love of beer and their ability to drink it in large quantities
Pong-tang
Fire Crotch
Just the Tip
AA Sponsors
Funny Beer Pong Team Names
Good beer-pong teams need more than great players; they need a catchy and memorable team name. Team names can really set the tone for your whole squad, so it's important to come up with something you and your teammates are proud of. To help you get started, here are some funny beer-pong team names to get your creativity flowing.
Ben Wa Balls (google it)
Sloshed
Fire Crotch
Plastered Pandas
Hops Scotch
Lush Puppies
Beast of Bourbon
Pink Pong
Beerkats
One Bro, One Ho
We love PEN15
Drink 182
Brew-Tang Clan
The Bus Drivers
nny Team Names
Pong-tang
Lush Puppies
Winehoused
Sexy Beer Chuggers
Double Trouble
Will Play for Alcohol
Professional Drunks
Chuggers
Brass Ovaries
Also Read: Flippy Cup Team Names
Beer Olympic Team Names
When you and your team participate in the Beer Olympics, it's important to have a great name that will make you stand out from the other teams. Here are some ideas for beer Olympic team names:
2 Racks, No Balls
The Chunderers
Drinking for Pleasure
Shoot Like Kobe
Yager Bombers
The Ponginators
Pong Blondes
Here for Beer!
Tampa Turn Up Crew
Barely Alive
Iceoholics
Girls Who Run The Bar!
Scared Shotless
Who's Driving Tonight?
We chug Loads
Sexy Beer Chuggers
Faster, Higher, Lager
Talk Is Cheap
Buff Beer Slayers
Beer Me Bro
Here for Beer!
Pongzilla
Balls Deep
year of Beer
Beed And Weers
Know it Ales
Ram Rod
Don't Dare Froths My Ball
Always Get It In
Talk is Cheap
Deathpong
2 Girls 10 Cups
Beer Goggles
Married Alcoholics
Also Read: Motivational Team Names
Beer Drinking Team Names
Beer-drinking team names are almost as important as the beer itself. A good name can set the tone for an awesome night of beer pong and other fun activities. Whether playing in a tournament or just having a friendly competition with your buddies, coming up with creative and memorable team names is essential to ensure everyone has a good time. If you're looking for beer-drinking team names to use in your next competition, here are some suggestions: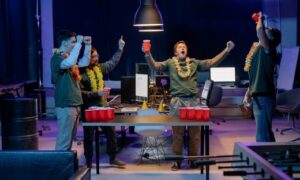 Bar Flies
Bad News Beers
The Chug-ettes
Liver Let Die
Followers of the One True Pint
Night Capriatis
Chilled Perfection
Brews on First
First Timers
Booze on first?
We Have More Fun
Jabba The Cup
Farfromsober
Wet Balls
Ram Rod
Booze on first?
Drinking team names
Soggy Balls
Sink or Swim
Hot Dogs
Last Orders
The Hotshots
Sticky Balls
Buff Beer Slayers
Beer-view Mirrors
Bar Flies
Also Read: Bowling Team Names
Drinking Team Names
If you're looking to create an unforgettable beer pong team name, it's important to put some thought and consideration into the process. While countless options are available – from puns to pop culture references – it's vital that your team name is creative, clever, and memorable. We've compiled this list of great beer pong team names for those who lack inspiration or want some ideas to get started.
Ping pong team names
Shootin' Tanks
Running Impaired
Beerkats
Bad News Beers
Beer Barons
Total Pongage
Shots at 6.30pm
Raging Alcoholics
Hops Scotch
Beer Raiders
Boobs And Balls
All for a Pint
Dizzy Bat
Style Before Talent
Saved by the War
Blue Balls
Beerkats
Flip Cups
Herpes
Sudsy Ballz
Smarty Pints
Alcohooligans
Brews Your Daddy?
THE DIRTY DOWNERS
Also Read: Powerful Team Names
Clever Beer Pong Team Names
No Pukers
Will Bowl for Beer
Brass Ovaries
No Pong Intended
No Fear For Beer
Squish Mittens
Beer It On
Nothin' But Wet
Hops Scotch
Long Pong Silver
Balls Deep
Pony Tails.
Who Wants The Clap?
Spiked Punch
Ham Wallets
Smarty Pints
Tushy-course
Pour Another One
The Chugonauts
One For The Road
Cup And Cupper
Fear the Beer
Aunt Flow
Drink like Shaq
Team Shameless
Pong Ninjas
Intoxicated Love
The Teabaggers
Ken And Barbie
Beer-view Mirrors
The Ponginators
Super Chuggers
Always Get It In
Here For Beer!
er Anyone?
Ball Busters
The Carbonators
Full of Stimulus
Six Pack Attacks
Absolut Fun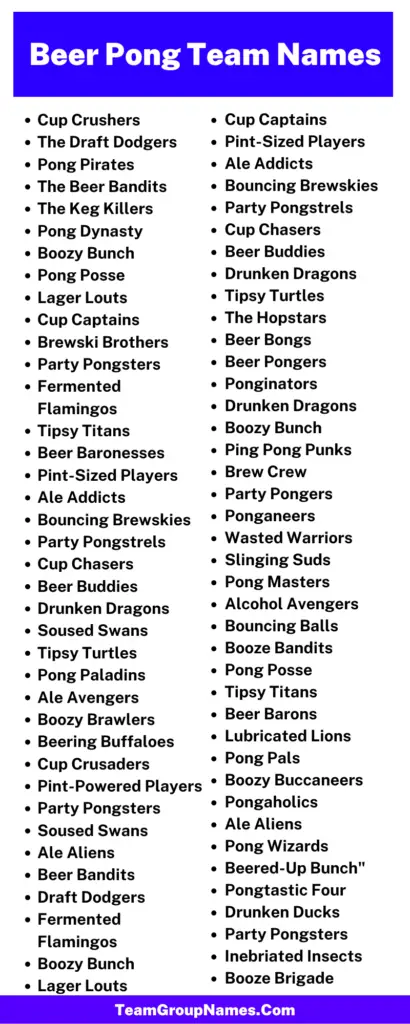 Beer Olympics Team Name Ideas
Ponged Off
You Got Swatted
The Team To Beat
Drink To Forget
Shots Shots Shots
Pongyang
Betty Fords
Red Hots.
Avoid The Void
Beer Olympics team names
Lush Puppies
King Pong
Aunt Flow
Two Oddballs
Brass Ovaries
Beers N Tears
Martini Dringis
Hole Dominators
Intoxicated
Duet Shots
We'll Cup Your Balls
Meow Burgers
Cowbelles.
Farfromsober
Beer Pong Champs
Brews on First
Rim Jobs
Here for Beer
Always Get It In
Sorry for Partying
Cold Beers
Ding Dong Ping Pong
We're Already Drunk
Three Sheets
Drinking Culture
babes & beers
He Shoots, She Scores
Beer drinking team names
Also Read: Superhero Team Names
Catchy Beer Pong Team Names
Drinking for Pleasure
Scoregasms
Gin and Topics
Beer Princesses
Ginll Fix It
Just the Tip
The Chosen Two
Bottoms up
Cup Dumpsters
Ginll Fix It
Spiked Punch
Shake & Bake
Kim Pong-il
Three Sheets To The Wind
Blood
Gin and Topics
Raging Alcoholics
Double Trouble
Lords Of Pongtown
2 Girls 10 Cups
Beer Thongs
Fear the Beer
Beerkats
The Titanics
No Pong Intended
Thirsty Playerz
Right Or Pong
Adorable Wrinkles
Bottle Finishers
Classy Commanders
Served with Ice
Spoiled Oysters
Blacked Out
SHAVED (my favorite: roll:)
Drinking Buddies
Rim Jobs
Beer It On
Piston Broke
Beasts of Bourbon
Lethal When Drunk
Here 4 Cheers
Titanium Liver
Lunachicks.
Also Read:
How To Choose a Perfect Name For Your Beer Pong Team?
Choosing the perfect name for your beer pong team can be daunting. Sure, you could go with a generic, unimaginative name like "The Beer Pongers" or "The Chuggers," but why not get creative and choose something that really stands out? Here are some tips to help you pick the perfect name for your beer pong team.
First, think about the type of beer pong team you want to be. Are you a group of serious competitors looking to dominate every tournament? Are you more relaxed and just out for some friendly competition? Whatever your style, pick a name that reflects it.
Second, consider using puns or wordplay in your team name. Not only are these types of names fun to say, but they can also make your team memorable. For example, a "Pint-Size Pongers" or an "Ale-Whirls" could get some serious attention at the beer pong table.
Third, you should consider using pop culture references in your team name. These can be anything from movie quotes to song lyrics, but make sure you choose something everyone on the team is familiar with. This will help unite your team, create camaraderie, and help you stand out among the competition.
Finally, when choosing a name for your beer pong team, ensure it is something that all your teammates can agree on. The last thing you want is for someone to be left out because they don't like the name. Take everyone's input into account and come up with a few good options before making a final decision.
Choosing the perfect name for your beer pong team doesn't have to be difficult. With creativity and input from everyone on the team, you can develop something that will make your team stand out and be remembered for years to come. Here are some tips to name your team. These tips will help you develop a unique name for your team.
A short and simple name
Always try to pick or choose a name that is simple and short. A short and crisp team name is very important to attract people. People often forget a lengthy name because it's hard to remember. A short and straightforward name can help you to represent your team to the audience in an imposing manner.
Memorable and Unique Name
Choose a name that is very to spell and easy to remember. It's very important that your audience recall your team name. When you want to stand out, your team name should have memorable factors, and a memorable team name is very important.
Uniqueness is crucial when choosing or picking a name for your team. So try to use some simple and familiar words in your team name. Use memorable and unique words related to the subject of the team.
Easy Pronunciation
You should choose a name that is easy to spell and memorable. A name that may take enough time to pronounce may adversely affect your team's image or popularity.
The best way to check if it is easy to pronounce is to speak the name loudly by yourself. If you find the team name is problem-free to speak louder, keep it on your list. Otherwise, ignore it.
Subject Oriented
You should consider a team name that perfectly suits your team or group. It's important that your team name is related to the subject of your team. And your team name should describe your team's goals, skills, specialty, and motive. So whenever anyone reads your team name, he/she must be able to understand what your team is about.
Consider things that team members have in common.
Consider things that all your team members have in common. In this way, you can also develop a unique and catchy team name for your team or group.
Perhaps, You all love the same book, movie, sport, video game, food, or anything. Consider anything you all have in common and then come up with a team name based on those things.
Opinions and suggestions from Team Members
Take suggestions from all your team members. Include your team members in the naming process; this way, you can develop a team name that will build team spirit.
Don't Copy From Others
Don't copy team names from others. People hate a copy team name. Copying has always been treated as cheating. It has been in exams or even when giving a team name. So do not copy names from the existing operating team, as it will harm them and you. It also ruins the popularity and trust factor of your team.
Look For Feedbacks
Feedbacks are really important. So when thinking of a team name, you can always ask your loved ones, team members, or your audience to help you by rating your team name, suggesting names or tips, and giving opinions about your selected names.
Check its availability.
Always check the availability of the team name before finalizing it. Check the availability of team names on google or any social media. You must ensure that your choice or framed names are available online. The same rule is applicable in the case of domain name availability checks.
Final Words
So we hope you find some Beer Pong Team Names from this article. If you find this article helpful, you can share it with your friends and team members. If you have any suggestions or questions for us, Then you can comment below and let us know about your feedback. Finally, Thank you for spending time with us; Cheers!
Also Read: