Are you looking for the best collection of Cricket Team Names? Then you are in the right place because here you can find a huge collection of Team Names For Cricket. You can easily pick a team name from these lists for your cricket team or you can also make your own unique name with these name ideas.
A team name is very important for a team. It's the identity of your team and also the first impression. So having a perfect and suitable name for your cricket team is very important. Here are the characteristics of a good cricket team name.
Short and Simple
Memorable and Catchy
Meaningful Name
Easy to spell and Easy to understand
Unique and Creative
Cricket is a very popular sport.  Every cricket fan or lover loves to play cricket. There are lots of times when we participate in any cricket tournament or event then we create a team for that event. Even on a regular play cricket needs a team to play it. Basically, Cricket is a team game.
So then you need a name for your cricket team. But finding the right type of name for your cricket team is not an easy task but here we make it simple.
Here are Cool, Good, Unique, Creative, and Catchy Cricket Team Names and Name Ideas also. You can easily pick a name for your team from these lists or you can also make your own unique name with these name ideas.
How To Name Your Cricket Team
Your team name should be simple and catchy so that it grabs attention and also makes a good impression.
Choose a name that reflects the personality, attitude, skill, and specialty of players.
Add some meaning to your team name so that people and the team members can easily understand the name and relate to it.
Try to make it easy and simple so that every person can easily understand and remember your cricket team.
Before you develop your team name you should consult with your team.
We hope these tips will help you to come up with a cool name for your cricket team. So let's dive into it.
Cricket Team Names
Here are some Cricket Team Names, You can easily pick a name from this list for your cricket team. So let's dive into it.
Mighty Demons
SuperSixers
Cobras
Boom Boom Bashers
Big Hit Theory
Crazy 11
The Guardians
Sooners
Middle Stump Assault
Bat Assault
The Epic Blasters
The Master Batters
Game Swingers
Master Batting Skeletons
The Superlatives
Happening 11
Soaring Sixes
The Monarchy
Fireballs
Royal Strikers
Thunder Bats
Spartan Smashers
Pitch Predators
Wicket Wizards
Boundary Blazers
Run Chasers
Galaxy Guards
Kings of Crease
Willow Warriors
Elite Eleven
Power Play Pioneers
Dynamic Drifters
The Star Destroyers – For fans of sci-fi movies or video games, this is a fun option.
The Spinners – For teams who rely on spin bowling to gain an advantage over the competition.
The Gentlemen's Club – A classy name that reflects the culture and values of cricket.
The Big Bash – A great name to reflect the energy and excitement of cricket!
The Wicket Keepers – Perfect for a team that takes pride in their defense.
The Legends – An ideal name for a team that honors the greats of cricket past.
The Pacers – A nod to teams who are known for their fast bowling attack.
The All-Rounders – Show your appreciation to players who can do it all!
The Unstoppables – For those determined to win no matter what!
Cool Cricket Team Names
Cricket is a game that has been beloved by millions of people around the world for centuries. Whether you're an avid cricket fan or just a casual player, having an awesome cricket team name can add some fun and excitement to your game. Here are some cool cricket team names to help get you started:
Cricketing Phantoms
The Go Getters
The Jolly Cricketers
Running Empty
Swing Thing
Champions
Pitch Smashers
Spin Masters
Crimson Chargers
Ballistic Bowlers
Century Slayers
Nightwatch Nomads
Stump Stormers
Over Achievers
Mid-On Monarchs
Golden Googlies
Pace Pack
Runners for Victory
Enemies of the Ball
Violets
Amazing Shots
Bohemian Blasters
Scared Shotless
Soul Takers
Seawolves
Enchanting Stumpers
Green galaxy
The Outsiders
Screw Balls
Soaring Sixes
The Scoring Willows
No game scheduled
The Six Hitters: A daring cricket team name that suggests an aggressive style of play with lots of big hits over the fence.
The Cricketers: A classic cricket team name that suggests a group of dedicated players who are serious about the game.
The Pitch Raiders: A fun and energetic team name that evokes the spirit of stolen bases and daring plays.
Run-A-Muckers: This creative cricket team name implies a fast-paced game with lots of running around.
The Bouncers: A tough-sounding cricket team name that hints at a match of intense competition.
The Clangers: A slightly offbeat cricket team name that implies a bunch of mischievous players who like to push the boundaries.
Sticky Wickets: A whimsical cricket team name that suggests tricky situations and challenging obstacles to overcome.
The Mavericks: A cool cricket team name for a group of independent players who don't always play by the rules.
The Googly-Makers: An imaginative cricket team name that implies a game full of surprises and twists.
The Spin Kings: A powerful cricket team name that promises plenty of spin to keep opponents guessing.
Unique Cricket Team Name Ideas
When creating a cricket team, it is important to have the perfect name. It should reflect the team spirit, and be memorable in order for fans to cheer you on! Here are some unique cricket team names that you can use when forming your own team: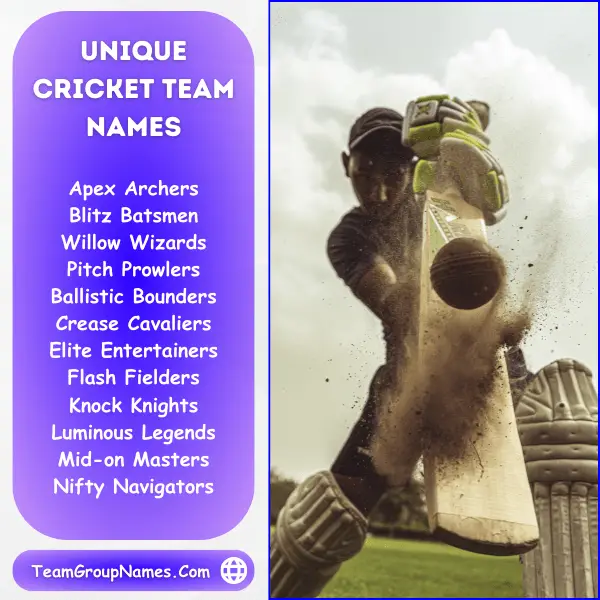 The Tough Ones
Game Swingers
Swing Sultans
Batting Brigadiers
Strike Seekers
Pitch Imperials
Cricket Cavaliers
Seam Soldiers
Blockhole Bandits
Leather Legends
Groundbreakers
Century Sentinels
Yorker Yodhas
Cover Drive Crew
Boundary Bouncers
The Boundary Bandits – This fun name gives a nod to the team's ability to score lots of runs!
The RecordSetters
Vandals
The Six Slingers – Perfect for a team that is always knocking sixes out of the park.
Flamin ballers
Fresh Starz
The Yorkers – Show off your mastery of the yorker with this name!
Brave-Heart Warriors
Dominators
The Pacers – A great name for a team full of fast bowlers.
Trophy Fighters
Spartan Strikers
The Super Strikers – Let everyone know you're going to be crushing the ball with this name!
The Shield
Ravishing Willows
The Wicket Warriors – A great way to show your team is ready for battle on the pitch.
Scarlet Raptors
Batting Divas
The Spin Doctors – Perfect for any spin bowlers on the team.
A-Team
Master Batters
The Hit Squad – A great name for a powerful batting unit.
Dragonslayers
The Supernovas
The Field Magicians – Let everyone know you'll be putting on a show out in the field with this one!
Strike Anthology
Bounce Demons
The Hat-Trick Heroes – A playful way to show off your team's skill of taking hat-tricks.
Best Names For Cricket Team
There are so many great team names for cricket teams out there. Whether you're looking for a funny, cool, or creative name for your cricket squad, here are some of the best ones:
Giant Slayers
Six Offenders
Leg-Side Lancers
Full-Toss Flyers
Fielding Phantoms
Duck Dodgers
Spin Spinsters
Wicket Wanderers
Flashy Fielders
Top Spin Titans
Middle Stump Magicians
Run Rate Raiders
Off-Side Operators
Reverse Sweep Rebels
Cricket Commanders
Final Over Fighters
The Strikers – This is an obvious choice that pays homage to the one of the most important aspects of cricket: bowling in the form of 'striking'.
The Fire Breathers
The Top Class
The Hurricanes – Another reference to bowling, this name references the power and force behind a good bowl from a top notch player.
Tireless Runners
Mission Impossible
The Thunderbolts – This one brings to mind lightning and thunder as well as the sound of loud cheering for your team when they achieve a great victory!
Ferocious Fasties
The Master Batters
The Warriors – A classic choice that still stands out amongst other cricket teams, representing strength and resilience on the field or court (depending on which type of cricket you're playing).
Six Offenders
Merciless Strikers
The Cheerleaders – Show your opponents your enthusiasm with this fun option, complete with pompoms! It also reminds players to keep their team morale high.
Fart sniffers
The Ballistic Bombers
The Royals – This is a great choice for the cricket fans of the world who want to feel like royalty on the field! It's also a nod to classic British-style cricket.
Brokebat Mountain
Red Riders
The Wreckers – If your team is determined to take down its opponents, this is the perfect name to express that! Plus, it's a fun reference to the demolition term.
Ball Burners
Crazy 11
The Billionaires – Perfect for the cricket team of well-to-do fans who want to show off their wealth and success on the field.
Crick-IT
The Big Beaters
The Spicy Chicks – A fun name that also expresses the team's strength and sass. Perfect for a female-dominated squad.
Game for Runs
The Hitters – This one is great to remind your players of their main goal: getting those runs! It's also a nice nod to any cricket fan who loves hitting sixes (or fours).
The Scoring Willows
Avengers
Also, Check-Out: Motivational Team Names
Good Cricket Team Names
Here we collect good cricket team names.
Ball Burners
Pin Drop Violence
Challengers
Innings Stars
Fear this
Screw Balls
Running Empty
The Tyrants
The Empowered
Vivacious Scorers
Over the Top Gurus
Soaring Sixes
We Don't Lose
In Style
Falcons
The RecordSetters
The Cunning Stunts
Conquerors
Unbeatable
The Jolly Cricketers
Scorpions
The Lost Boys
Ball Breakers
Royal Strikers
Explorers
Masters
Read Also: Powerful Team Names
Cricket Club Names
Choosing the right name for your cricket team can be a fun but challenging task. The name becomes an identity, a rallying point, and a source of pride for the team members. It also reflects the team's spirit, skill, and aspirations. Thus, the name you choose should be unique, catchy, and resonate with your team's philosophy and style of play. Here are creative Cricket Club Names to inspire you:
Boundary Breakers
Batting Barrage
Wicket Wonders
Century Champions
Run Raiders
Pitch Pursuers
Stump Strikers
Crease Conquerors
Over Achievers
Ballistic Bowlers
Swing Kings
The Pace Attack
Spin Masters
Middle Stump Mavericks
The Run Chasers
Wicket Wizards
The Batting Brigade
Bowling Bandits
Fielding Force
Cricket Crusaders
Run Rebels
Ball Bashers
Clever Cutters
Slog Sweepers
Power Hitters
Spin Slayers
Inswing Invincibles
The Yorker Yeomen
Pace Pioneers
Swing Sultans
Cricket Group Names
Finding the perfect name for your cricket team can be a daunting task. Whether you are looking for something funny, inspirational, or simply want to honor the sport itself, here are some ideas to get you started.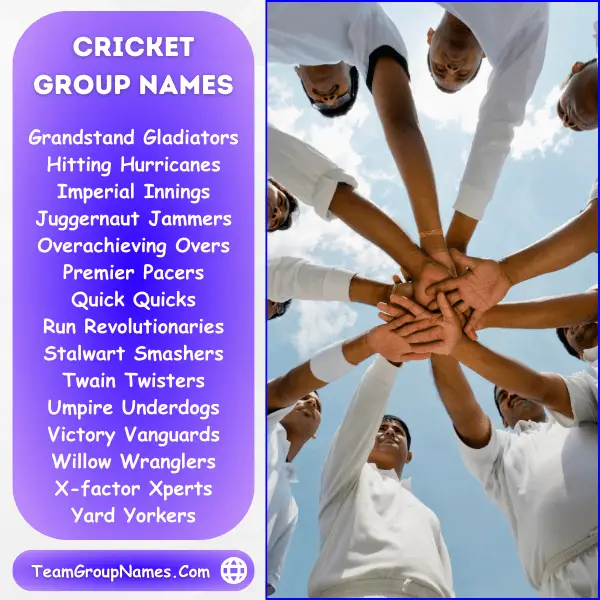 Funny Names: If you're looking for something that will make people smile, then consider one of these fun names. You can find inspiration from popular culture or come up with a pun of your own. Consider names such as "The Bowling Stones," "Runs in the Family," or "Not Out for Lunch."
Inspirational Names: If you want to honor the sport, consider picking an inspirational name. These can be anything from quotes to the names of famous players. For example, consider "Perseverance," "The Champions," or even the name of a key player from your team such as "The Sachin Tendulkar."
Honorific Names: You can also choose to honor the sport itself by selecting an honorific name for your cricket team. Consider options such as "Cricket Kings," "Lords of Cricket," or "The Batters."
No matter what name you choose for your cricket team, make sure it reflects the spirit and energy of the players. With a little creativity, you can come up with just the right name to represent your team.
Catchy Cricket Team Names
Choosing the right cricket team name is a very important part of building a successful team. A great name can inspire players, help attract new fans and sponsors, and give your team the edge it needs to win. Here are some creative cricket team names to get you started:
Killfist Warriors
Happening 11
Screw Balls
The Generals
The Big Egos
League of Roadrunners
The Swingers
Game Swingers
Magnitude 11
Horsepower
Brokebat Mountain
The Scoring Willows
Trophy Fighters
Dominators
Cricketing Phantoms
Screaming Eagles
The Supernovas
Sticky Wickets
Ball Busters
Floaters
Boom Boom Bashers
Kingdom of Crick
Also, Check-Out: Cricket Tournament Names
Cricket Team Names in Hindi
Indulging in cricket, a sport deeply embedded in the Indian culture is often synonymous with fostering camaraderie, healthy competition, and team spirit. A creative and catchy Hindi team name can add an extra layer of fun and identity to your cricket team, reflecting your team's personality and aspirations. Here are cricket team name ideas in Hindi:
Baazigar Blasters
Dhoom Machale Darters
Jazbaa Jaguars
Shaktishali Smashers
Bhaag Milkha Bhaag
Chak De Chargers
Lagaan Legends
Dabangg Defenders
Halla Bol Hitters
Krrish Krushers
Garam Dharams
Singham Strikers
Roaring Raees
Gully Gang
Baahubali Battlers
Chandni Challengers
Dil Se Daredevils
Kabir Singh Kings
Band Baaja Batting Brigade
Swades Strikers
Kesari Knights
Barfi! Batsmen
Jolly LLB Juggernauts
Padmaavat Pacers
Munna Bhai MBBS Masters
Rangeela Raiders
Simmba Superstars
Thugs of Hindostan
Devdas Deliverers
Don Dominators
Local Cricket Team Names
Here are local cricket team name ideas to inspire you:
Thunder Bats
Strikers United
Boundary Breakers
Century Champions
The Run Chasers
Wicket Warriors
Batting Barricades
Stumps Smashers
Inswingers
Pitch Masters
The Rungetters
Sixer Squad
The Wicket Whispers
Pace Pioneers
Spin Kings
Leather Chasers
Power Play Pundits
Reverse Sweepers
Googly Gurus
The Yorker Yodhas
Swing Sorcerers
Bouncer Bandits
Last Ball Legends
Duckworth-Lewis Dwellers
Catch Crusaders
Slog Over Sidekicks
Helicopter Heroes
Umpire Uprooters
Maiden Marvels
Over Achievers
Cricket Team Name Ideas
These are name ideas for a cricket team. You can easily pick some name ideas and make a unique and creative name for your team.
Pitch Smashers
The Shot Market
Untouchables
The Sons of Pitches
The Duckstars
The Elite
Smashers
Trojans
11 Musketeers
Giant Slayers
What A Shot!
Wanderers
Got The Runs
No Fear
Cool Thumpers
Challengers on the Turf
Dolphin dolls
Ferocious Fasties
The Mass Appeal
Kill Swing Maniacs
Also, Check-Out: Catchy Team Names
Cricket Team Names For Tournament
These are cricket team names for the tournament. So check out.
Dumbbell doors
Annihilators
Boundary Aimers
Amazing Shots
The Cridators
Working the balls
Ironfist Warriors
Tritons
Guts N' Glory
Strike Force 11
12 Fine Legs
Fiery Devils
Running On Empty
Pot Belly Riders
Swing Thing
Trophy Fighters
Waverider Legends
Golden Eagles
Will Run For Beer
Justice Bringers
Vivacious Scorers
Last Picks
Funny Cricket Team Names
Whether you're forming a new cricket team or revamping an old one, injecting a bit of humor into your team name can foster camaraderie and keep spirits high, even when the match gets tough. A funny name can help lighten the mood, making every game more enjoyable. Here are humorous cricket team name ideas for your consideration:
Willow Whackers
Bat's All Folks
Caught Behind
Silly Mid-On Mavens
Wicket Tricksters
Howzat Heroes
Crease Monkeys
Bails and Whistles
Out for a Duck
Stumped Stunners
Leg Byes Lads
Run-out Rebels
Pavilion Pranksters
Boundary Bowlers
Inswing Instigators
Gully Goofballs
Cover Drive Crackups
Over and Out
Pitch Perfect Puns
Short Leg Snickers
The Square Cut Squad
Yorker Yucks
No-ball Nudniks
Pull Shot Pranksters
The Googly Goons
Fast Bowling Funnies
Slow and Steady Silly
Keep Calm and Crease On
Bowl Me Over
The Third Man Thespians
Cricket Team Name Suggestions
Selecting a name for your cricket team can be an enjoyable endeavor that fosters camaraderie among your squad. An exceptional team name should be memorable, distinctive, and embody the essence of your players. It should instill dread in the hearts of your adversaries while igniting a sense of cohesion and fortitude within your ranks.
Striking Stallions
Grand Slammers
Run Rulers
Wicket Warriors
Batting Blitzers
Catch Crusaders
Fielding Fieros
Majestic Marauders
Pace Pioneers
Spin Sorcerers
Swinging Samurai
Fast Fielders
Delivery Demons
Century Champions
Stump Strikers
The Cricket Commandos
The Batting Blasters
Game Gladiators
Cricket Crusaders
Ball Busters
Mighty Bowlers
Over Achievers
Innings Icons
Power Players
The Bowling Blitz
Fielding Phantoms
Cricket Cavaliers
Wicket Warlords
Stump Saviors
Run Resisters
Ballistic Batsmen
Clever Clippers
Excellent Cricket Team Names
Strikers Elite
Batting Barricades
Boundary Blazers
Wicket Warriors
Ballistic Bouncers
Cricket Commanders
Pitch Protectors
Run Rulers
Swing Savants
Century Chasers
Pinnacle Pacers
Spin Kings
Powerplay Punishers
Galactic Guards
Stump Stormers
Masterful Mavericks
Crease Conquerors
Innings Invaders
Majestic Maulers
Yorker Yodhas
Spin Slingers
Raging Runners
Ballad Bowlers
Woven Wickets
Cricket Crusaders
Bat & Ball Brigade
Fiery Fielders
Stellar Stumpers
Pitch Pioneers
Runway Riders
Also, Check-Out:
How To Name Your Cricket Team
Here are some tips to name your team. These tips will help you to come up with a unique name for your team.
A short and simple name
Always try to pick or choose a name that is simple and short. A short and crisp team name is very important to attract people. People often forgot a lengthy name because it's hard to remember. A short and straightforward name can help you to represent your team to the audience in an imposing manner.
Memorable and Unique Name
Choose a name that is very to spell and easy to remember. It's very important that your audience recall your team name. When you want to stand out then your team name should have memorable factors in it then a memorable team name is very important.
Uniqueness is a crucial factor when you choose or pick a name for your team. So try to use some simple and familiar words in your team name. Use memorable and unique words related to the subject of the team.
Easy Pronunciation
You should choose a name that is easy to spell and memorable. A name that may take enough time to get pronounced may adversely affect your team's image or popularity.
The best way to check if it is easy to pronounce is to speak the name loudly by yourself. If you find the team name is problem-free to speak louder, keep it on your list. Otherwise, ignore it.
Subject Oriented
You should consider a team name that perfectly suits your team or group. It's important that your team name is related to the subject of your team. And, your team name should describe the goals, skills, specialty, and motive of your team. So whenever anyone reads your team name, he/she must be able to understand what your team is about.
Consider things that team members have in common
Consider things that all your team members have in common. In this way, you can also come up with a unique and catchy team name for your team or group.
Perhaps, You all love the same book, movie, sport, video game, food, or anything. Consider anything that you all have in common and then come up with a team name based on those things.
Opinions and suggestions from Team Members
Take suggestions from all your team members. Include your team members in the naming process, this way you can come up with a team name that will build team spirit.
Don't Copy From Others
Don't copy team names from others. People hate a copy team name. Copying has always been treated as cheating if it has been in exams or even when giving a team name. So do not copy names from the already operating team as it will be harmful to them and you. It also ruins the popularity and trust factor of your team.
Look For Feedbacks
Feedbacks are really important. So when thinking of a team name, you can always ask your loved ones or team members, or your audience to help you by rating your team name, suggesting names or tips, and giving opinions about your selected names.
Check, its availability
Always check the availability of the team name before finalizing it. Check the availability of team names on google or any social media. You need to be sure that your choice or framed names are available online. The same rule is applicable in the case of domain name availability checks.
Final Words
So we hope you find some Cricket Team Names and name ideas from these collections. If you find this article helpful then you can share it with others. If you have any suggestions or questions for us, Then you can comment below and let us know about your feedback. Finally, Thank you for spending time with us, Cheers!
Also, Check-Out: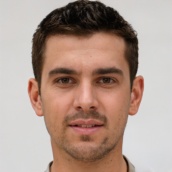 Greetings, I'm Alex – an expert in the art of naming teams, groups or brands, and businesses. With years of experience as a consultant for some of the most recognized companies out there, I want to pass on my knowledge and share tips that will help you craft an unforgettable name for your project through TeamGroupNames.Com!