CrossFit isn't just about pushing your limits physically; it's a lifestyle that fosters community and camaraderie. And what better way to showcase your squad's unity and strength than by choosing CrossFit team names that resonate with your collective spirit?
Whether you're a veteran of the box or fresh on the scene, a compelling team name can be the rallying cry that propels you to success. In this ultimate guide, we will arm you with an arsenal of CrossFit team names that are as tough and inspiring as your workouts.
From cool and funny monikers to names that mean business, you'll find the perfect fit for your CrossFit clan.
CrossFit Team Names
The name you choose for your CrossFit team is more than a label; it's a badge of honor that represents your group's identity. It encapsulates your goals, your attitude, and your journey. We've curated a list of CrossFit team names that strike the perfect balance between creativity and motivation.
WOD Warriors
Snatch Masters
Burpee Brigade
Thruster Titans
Kettlebell Krew
Deadlift Divas
Box Jump Barbarians
Power Clean Pack
Rowing Renegades
AMRAP Assassins
The Squat Squad
Metcon Maniacs
Chalk Dust Rebels
Wall Ball Wizards
Double Under Dogs
The Muscle Mavens
The Deadlift Dukes
Scaled Savages
Clean-and-Jerk Crew
The Rack Pack
Prowler Prowess
The Fit Fleet
HSPU Heroes
Barbell Battalion
Sprinter Soldiers
The Fran-tastics
Chipper Champs
The Row-migos
The Pull-Up Posse
Jerk and Clean Jokers
Cool CrossFit Team Names
When your team walks into a CrossFit box, you want a name that commands attention and respect. Cool CrossFit team names are all about that edge and attitude that sets your team apart. Check out these suggestions that are sure to turn heads and raise the bar.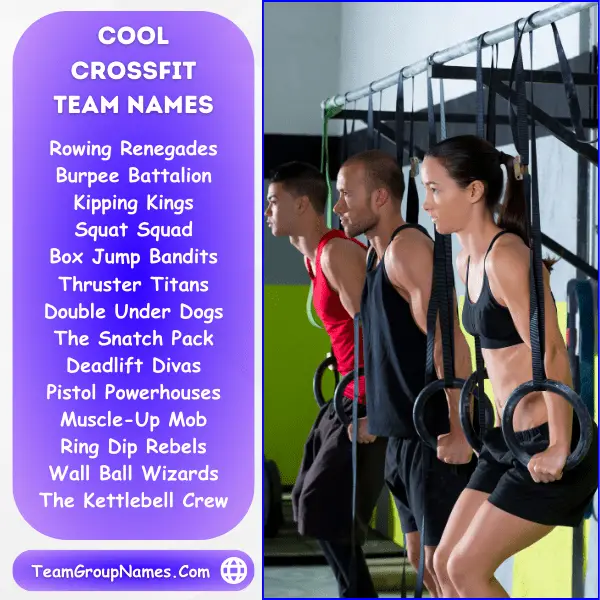 Flex Appeal
The Iron Tribe
Gravity Defiers
Mighty Morphing Power Lifters
The WOD Gods
Reps for Days
The Barbell Bosses
Snatch and Dash
Clean Jerks
Squat Thrust Elites
The Bench Press Bunch
Deadlift Dynamos
The Kipping Kings
Calisthenic Crusaders
The Fit Phalanx
Cardio Conquerors
Lifted Spirits
The Primal Pack
The Grit Grid
The Box Rockers
Strength Syndicate
Powerhouse Posse
The Muscle Mob
The Elite Edge
Burpee Battalion
The Flex Force
Agility Aces
The Buff Brigade
Formidable Few
Herculean Hoard
A name with the cool factor isn't just about the aesthetic; it's a psychological tool that can give your team an extra ounce of confidence and swagger during those grueling WODs.
Funny CrossFit Team Names
They say laughter is the best medicine, and when it comes to CrossFit, a sense of humor can certainly take the edge off the intense competition and challenging workouts. Here are funny CrossFit team names that will make everyone chuckle as you chalk up for your next session.
Clean and Jerk Faces
WOD Did We Get Into
The Metconcomedians
Snatch Me If You Can
Burpee Bunch of Jokers
The Rowing Puns
Abdominal Snowmen
The Cardio Clowns
Thruster Busters
Kettlebell Comedians
Squat Till You Dropouts
Punny Pull-Uppers
The WODFathers
Swole Sisters
Hang Snatch Heroes
Jerk and Snark
Humorous Thrusters
The Box Jokesters
Gains Goblins
Deadlift Dandies
Muscle Clowns
The Sweat Angels
Power Snatch Pranksters
Lifting Laffers
Scaled Scallywags
Witty Weightlifters
Chuckling Cleaners
Press Pirates
The Row-Mantics
The Swole Mates
Incorporating humor into your team name is a fantastic way to keep spirits high and remind everyone that while CrossFit is serious business, it's also about having fun and building a supportive community.
Best CrossFit Team Names
Choosing the best CrossFit team name means selecting a moniker that embodies excellence and commitment. The following names are for teams who take their workouts as seriously as their team identity.
Peak Performers
Elite WOD Squad
Box Victors
WOD Dominators
Iron Will Collective
No Rep Left Behind
Formidable Lifters
AMRAP Elites
The PR Pioneers
The Stamina Kings
Strength Savants
Muscle Up Mavericks
Unbroken Warriors
The Gritty Gang
The Fit Forged
The Max Effort Tribe
Endurance Engineers
The Tactical Fit
Workout Wardens
Resilient Rebels
Beast Mode Battalion
Tenacious Trainers
Herculean Heroes
Power Stroke Pros
Sweat Equity Squad
CrossFit Crusaders
Rep Repertoire
The Metcon Masters
Domination Station
The Fittest Force
These names are chosen to reflect the qualities of the best CrossFit teams: determination, strength, and the drive to succeed.
Check Out: Powerful Team Names
Weight Lifting Team Names
For teams that focus on the lifting aspect of CrossFit, the right team name can be a source of inspiration and power. Here are weightlifting team names designed to pump up your team spirit.
Deadlift Dragoons
The Snatch Squad
Iron Giants
Mighty Lifters
Power Cleaners
Squat Stand Army
Bench Brigade
Olympic Lifters
Barbell Battalion
The Lift Legends
Stronghold Warriors
Weight Warriors
The Ironclad Crew
Mighty Thrusters
Heavy Lifter League
Power Pressers
Rack Commanders
Iron Mavericks
Barbell Barrage
Strength Seekers
Gravity Rebels
Plateau Breakers
The Lift Lords
Muscle Mechanics
The Iron Bond
Barbell Bombers
Heavy Duty Heroes
The Iron Brigade
Power Pathfinders
Lifter's Legion
By capturing the essence of strength and endurance, these names help to create an identity that's as solid as the weights your team lifts.
Check Out: Weight Loss Team Names
CrossFit Team Names for Old and Young
A CrossFit team that includes members of all ages needs a name that unifies and celebrates its diversity. These CrossFit team names are perfect for teams that span generations, offering a common ground for old and young alike.
Generational Gains
Ageless Athletes
Timeless Trainers
Epochal Exercisers
Decades Dominators
The Legacy Lifters
Eternal Elites
Centennial Strength
Generational Juggernauts
Cross-Age Crusaders
Forever Fit Fighters
Multi-Era Musclemen
Historic Hustlers
Time-Tested Titans
Young and the Rest of Us
Age-Defying Dynamos
Old School Muscle
New Age Warriors
Perennial Power
Evergreen Exercisers
CrossFit Continuum
Senior Strength Squad
Junior Juggernauts
Seasoned Sprinters
Millennium Movers
Time-Honored Tensiles
Generation Gap Gladiators
Infinite Intervals
By embracing both the wisdom of age and the vigor of youth, these team names encapsulate the timeless spirit of CrossFit that knows no age.
Check Out: Fitness Team Names
Male Female CrossFit Team Names
In the spirit of inclusivity and camaraderie, it's essential to have a team name that reflects the combined strength of both male and female athletes. Here are team names designed to highlight the power of mixed-gender teams.
Mixed Modality Mates
Coed Power Players
The Dynamic Duos
Bros and Barbells
The WOD Couples
The Snatch Pairs
His and Hers Heroes
Mighty Misters and Misses
Gents and Jills
Dudes and Dumbbells
Lads and Lasses Lift
Barbell Brotherhood and Sisterhood
The Pairs of Power
Beaus and Belles of the Barbell
Men and Women of Metcons
The Swole Mates
He-She Heavy Lifters
Gender Bender Benders
The Matched Muscle
Dumbbells and Diamonds
Couples that Clean and Jerk
The Press Partners
Queen Bees and Worker Bees
Jacks and Jills of All Trades
Squat Kings and Queens
Fitness Fellas and Femmes
Balanced Barbells
Male-Female Fit Force
Buff Boys and Girls
United Uplifters
Blending strength and strategy, these names signify unity and balance, celebrating the combined force of male and female athletes pushing towards common goals.
Check Out: Motivational Team Names
CrossFit Team Names for Competition
In the heat of competition, a strong team name can intimidate your rivals and unite your members under a banner of shared strength and determination. Here are competitive CrossFit team names designed to do just that.
WOD Conquerors
The Metaconquerors
Box Battle Brigade
Muscle Up Monarchs
Snatch Sovereigns
Podium Predators
Clean & Conquer Crew
The Dominant DNA
Elite Executioners
The WOD Warlords
Sweat and Swagger Squad
The PR Pros
Podium Pursuers
The Unrelenting
Game Day Gladiators
Intensity Incarnates
Workout Warlocks
Burpee Bosses
Intrepid Irons
Peak Performance Pack
Ruthless Rowers
Metcon Militants
Lift Legionnaires
Tactical Trainers
Dominance Developers
Competition Crushers
The Savage Sprinters
The WOD Wizards
Herculean Hustlers
In the arena of CrossFit competitions, these names are your war cry, your psychological armor, and your declaration of the relentless spirit your team embodies.
Check Out: Running Team Names
Coed CrossFit Team Names
CrossFit is about pushing through barriers, and coed teams exemplify this by breaking down gender boundaries, fostering mutual respect, and celebrating unity in diversity. Here's a list of coed team names that reflect this ethos.
Power Pairings
Mixed Muscle Alliance
The Duo Dynamics
Balanced Barbells Brigade
The Equalizers
Coed Contenders
Joint Force Fitness
Synchronized Strength Squad
Binary Barbell Club
Unified Uplifters
Harmonious Heavy Lifters
Partnered Powerhouses
Binary WOD Busters
Mixed Metcon Masters
Coed Conditioning Corps
Flex and Finesse Faction
The Barbell Bond
CrossFit Coalition
Dynamic Duo Division
His & Hers Hustle
Perfect Pair Performance
Teamwork Titans
WOD Warriors Mixed
Merged Muscles
Grit and Grace Group
Dual Dynamite
Lift and Laugh League
Coed Champions
Paired Power Players
Combo Crossfitters
These names are a celebration of coed teams' unique synergy and the collective power they bring to each workout and competition.
Check Out: Coed Team Names
Funny CrossFit Masters Team Names
Masters in CrossFit bring experience and a seasoned perspective to the sport, often with a side of wit that only years can hone. For the masters who love a good laugh along with their lifts, here are team names that blend humor with hard-earned wisdom.
Ancient Burpee Sages
PR Pensioners
Rep-tirement Crew
WOD Wrinklies
Snatch Grandmasters
Wise WOD Wonders
Masters of Metcons
Senior Snatchers
Flexed and the Furious
Old Box Elders
Grey Power Lifters
Seasoned WODders
Antique Athletes
WODderly Warriors
Over-the-Hill Thrillers
Vintage Muscle Club
The GeriFit Giants
Timeless Trainers
Elder Barbell Club
Masters of Muscle Memory
Age Against the Machine
Senior Strength Squad
Historical Hypertrophiers
The Rusty Rowers
Old Guard Gains
Reps and Rest-ers
CrossFit Chronicles
Workout Wisdom Council
Legacy Lifters
Fitness Pioneers
Incorporating a touch of humor, these names acknowledge the experience of CrossFit masters and their contributions to the sport with a nod and a wink.
Check Out: Walking Team Names
CrossFit Competition Team Names
Competition breeds excellence, and a name that reflects your team's competitive edge is a key element of your identity. Here are CrossFit competition team names that embody the spirit of excellence and the drive to win.
Contender Collective
Elite Edge Faction
Victory Vanguard
Podium Chasers
Rivalry Rebels
Metcon Titans
Championship Chasers
WOD Commanders
Ascent Athletes
Peak Performers
Battle-Tested
The Arena Aces
Tactical Titans
Combat Crossfitters
Summit Strivers
Scaled Up Squad
RX Renegades
Workout Warpath
The Athlete Army
Dominant Division
Triumphant Troop
Fit Fight Force
Competition Conquerors
CrossFit Crusade
WOD Warriors Elite
Final Round Fighters
Battle Ready Brigade
Elite WOD Warriors
CrossFit Champions
Podium Presence
These names were selected to resonate with the competitive spirit of CrossFit, aiming to inspire and intimidate as you gear up for the next challenge.
Check Out: Superhero Team Names
Male CrossFit Team Names
For the all-male teams out there, a name that exudes masculinity and solidarity can be a source of motivation. Here are CrossFit team names designed for the brotherhood that lifts together.
The Iron Men
Barbell Brothers
Muscle Marauders
Heavyset Heroes
Strongman Syndicate
Powerlifting Patriarchs
The Dumbbell Dudes
Testosterone Titans
Brawny Brigade
Lifting Legion
Bench Press Brotherhood
The Swole Squad
Mighty Men of Metcon
The Deadlift Dons
Power-Stroking Patriarchs
Gains Gang
WOD Warriors
Alpha Aggressors
The Burly Boys
Herculean Hunks
Brute Force Battalion
Macho Muscle Makers
Bulk Builders
The Iron Thorns
Squatting Strongmen
The Pump Patrol
Fitness Pharaohs
Ironbound Brotherhood
Strength Sovereigns
The Monolith Men
Each of these names is designed to embody the strength and camaraderie that comes with being part of an all-male CrossFit team.
Check Out: Bodybuilding Team Names
Fun CrossFit Team Names
CrossFit is tough, but who says it can't be fun? For teams that prioritize enjoyment just as much as fitness, here are fun CrossFit team names to capture your team's playful spirit.
Happy Snatchers
Jolly Riggers
Laughing Lungers
Cheerful Chalkers
Giggling Goblet Squatters
Joyful Jerkers
Merry Muscle-ups
Chuckling Cleaners
Buoyant Box Jumpers
Amusing AMRAPers
Delighted Deadlifters
Snickering Snatchers
Playful Powerlifters
The Witty WODders
Frolicsome Fitness Freaks
Jovial Gym Jocks
Lighthearted Lifters
Sanguine Squatters
Blithesome Barbellers
Kettlebell Kidders
Whimsical Weightlifters
Mirthful Metconners
Tickled Thrusters
Gleeful Grunters
Sprightly Sprinters
Nimble Ninjas
Exuberant Exercisers
Jesting Jacks
Humorous High-Fivers
Boisterous Burpee-ers
A fun team name can be a great conversation starter and build an atmosphere of lightheartedness and friendship.
Check Out: Powerlifting Team Names
CrossFit Team Names Female
An all-female CrossFit team deserves a name that's as strong and spirited as the women behind it. Here are CrossFit team names that celebrate female strength and unity.
Barbell Babes
The WOD Women
Deadlift Divas
Snatch Sisters
Metcon Mavens
Fitness Femmes
Powerlifting Princesses
Kettlebell Queens
The Squat Sorority
Clean and Jerk Dames
Thruster Belles
Muscle Maidens
Iron Amazons
Rowing Roses
Burpee Beauties
Gritty Goddesses
Dumbbell Duchesses
Strength Sirens
Cardio Queens
Flexing Females
Lifting Ladies
Prowler Princesses
The Agile Angels
Buff Beauties
The Warrior Women
Fit and Fierce
The Mighty Mermaids
Femme Fitale Force
Sweaty Sweethearts
Graceful Gains Group
These names are crafted to empower and inspire, celebrating the fierce and fabulous nature of women in CrossFit.
Check Out: Team Names For Girls
Good CrossFit Team Names
A good CrossFit team name is memorable, embodies your team's ethos, and can even boost morale. Here are good CrossFit team names that your team can wear as a badge of honor.
Resolute Repetitions
Formidable Fit
Balanced Brawlers
Enduring Elements
Agile Avengers
Tenacious Trainers
Steady Eddies
Mighty Morphing Metconners
Intense Intervals
Steadfast Squatters
Dynamic Deadlifters
Loyal Lifters
Synchronized Strength
Determined Drillers
Persistent Pulses
Fit and Focused
Constant Climbers
Battle-Ready Builders
Aspiring Athletes
Sweating Spartans
Courageous Crossfitters
Heartfelt Hardworkers
Muscle Motivators
Bold Box Jumpers
Assiduous Athletes
Devoted Drillers
Persevering Powerhouses
Unyielding Uplifters
Good team names resonate with the heart of CrossFit – perseverance, strength, and community.
Check Out: Race Team Names
Clever CrossFit Team Names
CrossFit challenges both the body and the mind. A clever team name that combines intelligence with physical prowess can be both inspiring and intimidating. Here are clever CrossFit team names that encapsulate wit and determination.
Brainy Brutes
Puzzle and Press
Clever Kettlebells
Wise WOD Warriors
Scheming Squatters
Mindful Muscle
Strategic Strengtheners
Savvy Snatchers
Metcon Masterminds
Brain-Gain Brigade
Intellectual Iron
Astute Athletes
Thoughtful Thrusters
Ingenious Intervalists
Cunning Clean and Jerkers
Brilliant Burpee-ers
Scholarly Sprinters
Quick-Witted Quads
Perceptive Powerlifters
Calculating Crossfitters
Sharp Strength Squad
Profound Pulses
Erudite Elitists
Bright Barbellers
Knowledgeable Kippers
Prudent Pumpers
Wise Weightlifters
Insightful Inverters
Tactical Tacticians
These names are designed to showcase your team's mental edge, proving that intellect and physical prowess are a formidable combination.
Check Out: Step Challenge Team Names
CrossFit Open Team Names
The CrossFit Open is a time for all to shine, reflecting the spirit of inclusivity that is at the heart of the community. Here are CrossFit Open team names that welcome all athletes to the challenge.
Open Arms Athletes
Universal Uplifters
Diverse Dynamos
All-Levels League
Community Challengers
Varied Vanguards
Mixed Might Movers
Collective Crossfitters
The Range of Reps
Inclusive Innovators
Broad-Spectrum Battlers
United Fitness Front
Spectrum Sprinters
All-Inclusive Irons
Open Field Fitness
Comprehensive Contenders
Wide-Ranging Warriors
Equal Opportunity Exercisers
Diversity Driven
Inclusive Intensity
Welcoming Weightlifters
Mixed Modality Marauders
Open-Category Crusaders
Universal Unifiers
All-Encompassing Athletes
Barrier-Breaking Brigade
Cohesive Crossfitters
All-Welcome Warriors
CrossFit Coalition
Open Horizon Heavers
These names are a testament to the Open's core value of inclusivity, inviting athletes from all walks of life to join in the shared pursuit of fitness and camaraderie.
Check Out: Beachbody Team Names
Badass CrossFit Team Names
Crossfit Flare
Band of Mudders
The Double Unders
Top Shelf
Real Survivors
Fat Bottom Girls.
Lean Into It
Fueled By Hops
Impact Crossfit
Blew by You
Buff and Stuff.
Pickles And Protein
The She-Hulks
Beast Mode Babes.
Impact Velocity
6 Pack Labs
The Mudstaches.
The Slimfits
Going the Distance
All About That Pace
Small but Mighty
Hulk Smashed
Serial Hikers
Heart Monitors
Trouble Unders
Tears For Beers
Sassy Squatters
Stud Muffins
Muffin Abductors
High Flyers
Boxers and Beers
Passion Pavers
Beast Mode Babes
CrossfitterSquad
Bench Buddies
Sausage factory
Jungle Fitness
Pain Killers
Excess Baggage
Sore Loins
Mission Slimpossible
Workout Warriors
Hardly Athletic
Slim Pack
Thin to Win
The Captivators
Him And Her
Top cross Fitness
The Crossfit Crunch
Titans
Belly Up Barbell
Donut Droppers
Serious Sheep
Junk Bunkers
Belly Dumpers
Obliterate
Your Local Rejects
Pain Killers
Just The Tip
Far Beast Movement
We pity the fool!
Impact Velocity
Nothing Extra
Flex Appeal
Crossfit Collective
Flex Appeal
Waist Removal
Flab Busters
Meaty Divas
Babe Bunch
Perfect Posture
Tremors
Uncompromised
Small But Mighty
Coast Busters
Just two more
Mud Flaps
The Meltaways
Let it Melt
Demand Crossfit
Smash!
Donut Droppers
Dynamite
Couch Potatoes
On The Grind
Hustlers
Dumbbells and Donuts
Check Out: Unique Team Names
Creative CrossFit Team Names
Cluster Crew
Slow Burn.
Hustle And Muscle
Fat Squad
Burpees And Beers
The Hapless Hamsters
Waist Away
Sore Loins
Clean jerks
Crossfit Collective
Body Abusers
The Cheaters
Cardio Closet
We Swiped Right
The Couch Potatoes
Fat Earthers
Sensitive To Pain
Bros before rows
The Money Shots
Dashing Divas
Pound Droppers
Bringing Up The Rear.
The Cheaters
Slim Pickens
Relentless
Far Beast Movement
Dirt Up My Skirt
The Bulls
Fat Shed-iators
Where's The Bacon?
SteamRollerz
The Serious Sheep
Journey to Lose
Agony of De Feet
Drop it like a squat
Mini Mees
Uncompromised
Thrusters
Mind Over Matter
Just two more
Garbage Men
Keeping U Fit
Miracle Workers
The Captivators
Perfect posture
Born to Lose
Slim Pancakes
Shwetty Balls
Worst Game Of Tag Ever
Drop It Like A Squat
Gym Borns
The Victorious Louses
Smart Bells
The Crossfit Course
In Style
Older Than You
Slimpossible
The Scream Team
Thinning The Herd
Fats all Folks!
Stallions
New Creations
Talk Fat Talk
Temporary Pain
The last team
Crossfit Crunch
Raging Hormones
2Fit2Quit
Jacked In The Box.
Fembots
Team Swingers
The Weight List.
Legs Miserable
The Crossfit Collective
Cheech And Chong
Check Out:
Tips to Choose the Perfect CrossFit Team Name
Selecting the perfect CrossFit team name is a crucial step in forging your team's identity. Here's a guide to help you nail it:
Reflect on Your Team's Character
Consider the traits that define your team. Are you all about intensity and determination, or do you bring a sense of humor to your workouts? Pick a name that mirrors these attributes.
Think About Longevity
Choose a name that will stand the test of time. Trends come and go, but a name with lasting appeal will serve you well through seasons and competitions.
Make It Memorable
A catchy name sticks. Opt for something that's easy to remember and pronounce so that your team name resonates with everyone who hears it.
Consider Your Audience
Who will be cheering you on? A name that connects with your supporters can enhance your team's presence and spirit.
Ensure It's Unique
Do a quick search to make sure your chosen name isn't already in use. Your team name should be as distinctive as your team itself.
Get Team Input
It's a team name, after all. Involve everyone in the decision-making process to find a name that everyone feels a part of.
Avoid Inappropriate Names
While a bit of edginess can be fun, steer clear of names that could be deemed offensive or in poor taste. Remember, CrossFit is about community and inclusivity.
Test It Out
Say it out loud, put it on a shirt, make a chant out of it. If it feels right, it probably is.
Have Fun with It
The process of choosing a team name should be enjoyable. Embrace the creativity and bonding experience it can provide.
Check Out:
Conclusion
Your CrossFit team name is more than just a collection of words; it's a representation of your team's heart and soul. It can inspire unity, strike fear in the competition, and bring a bit of fun to your fitness journey. With the plethora of suggestions provided and the tips to guide your choice, you're now equipped to select a name that's as dynamic and driven as the workouts you conquer together.
Remember, the best CrossFit team name is one that reflects your team's identity, resonates with its members, and makes a statement. So choose wisely, and let your team name be the rallying cry that leads you to victory!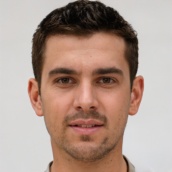 Greetings, I'm Alex – an expert in the art of naming teams, groups or brands, and businesses. With years of experience as a consultant for some of the most recognized companies out there, I want to pass on my knowledge and share tips that will help you craft an unforgettable name for your project through TeamGroupNames.Com!