Healthcare Team Names: The size and scope of healthcare organizations can vary greatly, from single physician practice to massive hospitals. No matter the scale of your team, it's essential to provide them with an identification that captures their purpose, mission, and ideals. This name should be meaningful and reflective of who you are as a group!
Crafting a catchy, unique name for your medical team may take some effort, but the reward of finding that perfect fit is worth it! To help you generate ideas and make the process easier, here are some tips on creating meaningful monikers for your healthcare group:
Think About Your Purpose – What is the primary purpose of your healthcare team? Ponder words such as "care" or "healing" which encapsulate the commitment to providing quality care for patients.
Get Creative with Wordplay – Tap into the power of wordplay to give your healthcare team a catchy and distinctive name. Get creative with popular health-related phrases like "Health All-Stars" or "Healing Heroes" – these names will impact everyone you meet!
Embrace Nature – Harness the therapeutic powers of nature to name your healthcare organization! Naming your team after calming and serene environments, such as "Caring Meadow" or "Healing Forest," can transport patients into a tranquil mental space. With these enchanting titles, you'll be able to create an atmosphere conducive to healing and restoration.
Focus on Your Core Values – What values does your medical team hold dear? Consider terminology that reflects these principles, like "Devoted Caregivers" or "Reliable Physicians."
Use Acronyms – If you're struggling to settle on the perfect name for your healthcare squad, why not use an acronym? First, pick out the starting letters of words that reflect and exude your mission statement. Then blend them into a catchy phrase such as HCF (Health Care Facilitators) or MHM (Medical Health Monitors). This will save time searching for proper names and be easier to remember!
Creating a creative name for your healthcare team can be an enjoyable and worthwhile experience. With the right amount of imagination, you'll be able to craft just the perfect title that embodies your mission, values, and goals! So here are some name ideas to get you started:
Healthcare Team Names
Care Connections
Healing Hands
Health and Wellness Solutions
Health Sharers
Medical Maestros
Quality Care Associates
Primary Care Innovators
The Diagnosis Wizards
Holistic Healthcare Solutions
Cure Seekers
Medic Miracle Makers
Specialist Squad
Pathway to Health Professionals
The Healthy Helpers
Treat Right Solutions
Pain Management Specialists
Team Treats
Healers United
Med Squad
Caring Clinicians
Healthcare Mavericks
Patient Partners
Care Planners
Medi-Care Squad
The Nuisance Group
Health Warriors
Medical Mavericks
Healing enthusiasts
The Prevention Posse
Care Coordinators
Doctor Do-Gooders
Healthcare Heroes
Patient Protectors
Primary Care Providers
Diagnostic Detectives
Emergency Responders
Hospital Helpers
Care Coaches
Clinical Consultants
Compassionate Crew
Empathetic Emissaries
Medical Magicians
Nursing Ninjas
Mending Minds
Medicine Mavens
Caring Crusaders
Healthcare Hopefuls
Optimal Outcomes
Patient Problem Solvers
Community Caregivers
Treatment Titans
Best Names For Healthcare Team
Healing Hands
Angel Healers
MedMasters
Cure Makers
Care Cadets
Compassion Corps
Healer's Haven
Health Havens
The Lifesavers
Practitioner Powerhouse
Medicine Mavens
Miracle Workers
Healthcare Heroes
Care Champions
Medical Mavericks
Health Warriors
Doctor Dream Team
Knower of Cures
Physicians Plus
Heartfelt Healers
Super Hero Staff
Healing Hands
Medic Magnates
Treatment Troopers
Hospital Heralds
Doctors of Destiny
Physician Professors
Disease Destroyers
Health Hope
Miracle Menders
Care Connection
Guardians of Good Health
Practice Pros
Care Clique
Therapy Titans
Vital Vanguards
Healthcare Commandos
Blue Angels
Care Givers
Healing Hands
Medical Mavericks
Health Ninjas
Miracle Workers
The EMT's
Medicators
Caring Commandos
First Responders
Life Savers
Care Warriors
Sensible Superheroes
Nursing Niftys
Champions of Care
Doctors and Dames
Emergency Elites
Healthcare Heroes
Health Care Team Names
Medical Miracle Makers
Definers of Health
The Immunizers
Health Providers
Healthcare Revolutionaries
Unified Healers
Primary Practicioners
Physician's Posse
The Super Nurses
Pharmaceutical Purveyors
Medical Monarchs
Health Heroes
Healing Hands
Care Givers
Diagnostics Doctors
Healthcare Heros
Healthcare Warriors
Medical Mavericks
Super Surgeons
Savvy Surgeons
Dynamic Docs
Medical Magicians
Therapy Trained Technicians
Clinical Crew
Treatment Titans
Master Medics
Iron Infirmarians
Caring Consultants
Doctorate Divas
Gentle Giants
Primary Physicians
Emergency Experts
Miracle Workers
Pharmacy Phenoms
Therapy Thunderbolts
Injector Innovators
Check-up Champions
Healing Hands
Medical Mavericks
Compassionate Caring
Doctor Diplomats
Care Givers and Smiles
Angels of Mercy
Medically Minded
Surgical Team Names
Healthcare Heroes
Bedside Buddies
Health Hustlers
Care Crusaders
Surgical Solutions
Miracle Makers
Med-Tech Majors
Nursing Ninjas
Diagnostics Dreamers
Pharma Professionals
Quality Quacks
Healthport Humorists
Healing Hearts
Emergency Experts
Pathology Pioneers
Clinic Crushers
ICU Innovators
Trauma Troopers
Vitality Vultures
Treatment Titans
The Great White Coats
Medical Magicians
All Hands Healthcare Team
Bedside Angels
Healing Heroes
Wellness Warriors
The Care Connectors
Compassionate Castle
Caring Cool Kids
Field of Dreams Healthcare Team
Keepin' It Healthy Team
The Medical Marvels
Healthful Havens
Superheroes in Scrubs
Champs for Cures
Medical Mavericks
Prescription to Health
The Compassion Club
Medical Missionaries
Grand Rounds Galore
Healthcare Hustlers
Cure Crusaders
Innovative Interventions
Intensive Insights
The Right Touch
Clinical Champions
Curing with Care
Healing Hands
Also, Check Out: Medical Team Names
Hospital Team Names
Caring Cures
Heart of Gold
Life Vision
Making Waves
Solidarity Support
Understanding Care
Team Careriders
Comfort Helpers
Miracle Makers
Devoted Doctors
Nursing Geniuses
Primary Care Pros
Bedside Buddies
Medicine Maniacs
Medical Masters
Specialists Squadron
Therapy Thunderbolts
Surgeons Superstars
Physicians Paladins
Healthcare Heros
Careful Compassion
Clinics Champions
Medical Mavericks
Hospitals Heroes
Elderly Experts
Emergency Experts
Psychologists Pioneers
Laboratory Learners
Cure Cruisers
Health Heroes
Vital Vanguards
Medical Mavericks
Wellness Warriors
Care Crusaders
Super Surgeons
Healing Hands
Total Treatment Team
Diagnostic Dreamers
Caring Chemists
Recovery Ringleaders
Health Hackers
Patient Partners
Critical Care Champions
Clinical Commandos
Hospital Hornets
Also, Check Out: Doctors Group Names
Health Team Names
Nursing Ninjas
Clinical Coroners
Therapeutic Titans
Healthcare Magicians
Medication Masters
Therapy Taskmasters
Immune Infantry
The Healers
The Caretakers
Healing Hands
Doctors of Distinction
Caring Professionals
Superior Service Providers
Clinic of Compassion
Health and Well-being Specialists
Medical Miracles Team
Comforting Caregivers
Nursing Innovators
Physicians of Excellence
Professional Health Advisors
Above and Beyond Specialists
Health-Centered Champions
Suppliers of Strength
Compassionate Caretakers
Walk the Walk Wellness
Clinical Crusaders
Hospice Angels
Sustainable Health
Healthcare Dream Team
Caretakers Elite
Healing Hearts
Caring Hands
Helping Hands
Compassionate Care
Wellness Warriors
Team Health
Also, Check Out: Nursing Team Names
Healthcare Team Name Ideas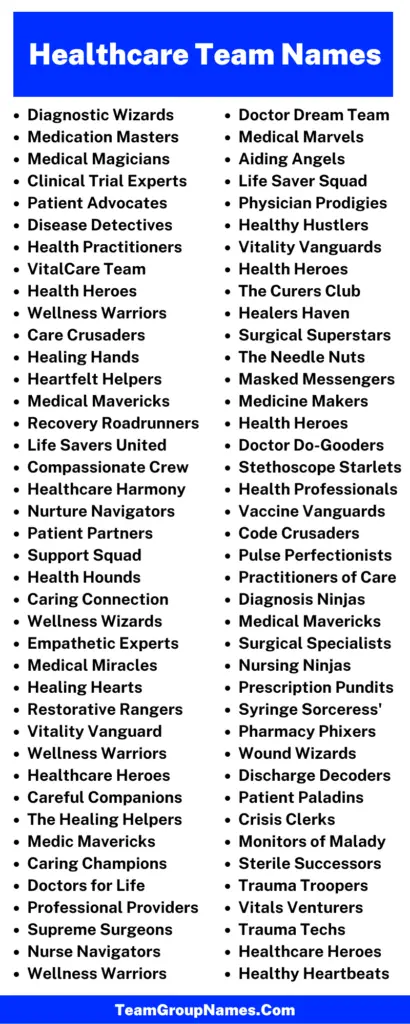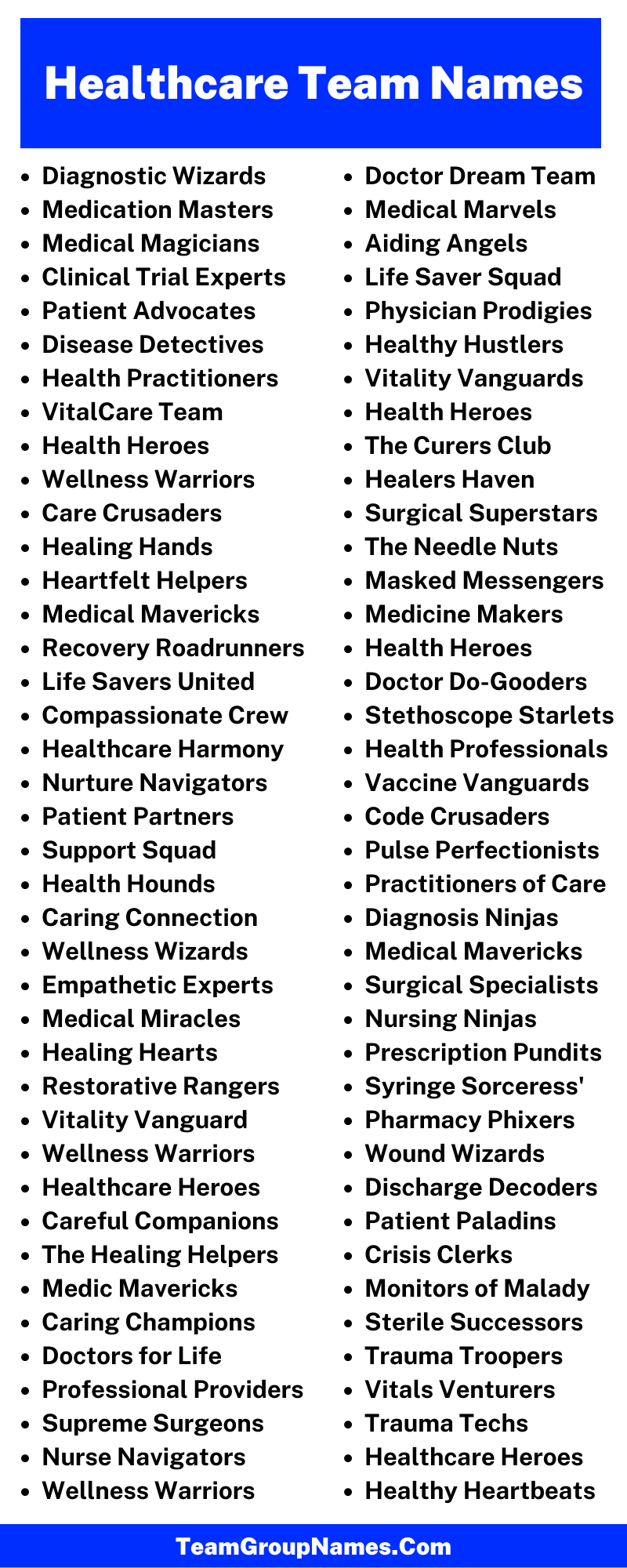 All Heart Healthcare
Unstoppable Nurses
Health Guardians
Miracle Makers
Treatment Angels
Quality Caregivers
Reliant Advisers
Secure Safeguards
Comfort Caretakers
Fortunate Families
Savvy Specialists
Perfect Physicians
Supportive Staff
Professional Partners
Healthy Havens
Lifesavers of Medicine
Guardians of Health
Medical Marvels
Optimal Outcomes
Vital Vanguards
Patient Pointers
Precision Practitioners
Vitality Care Team
Healing Hearts Healthcare
Brighter Days Health Group
Compassionate Care Crew
Empower Health Alliance
Care Connect Team
Wellness Warriors
Healthy Habits Squad
Medical Marvels Group
Serenity Health Partners
Harmony Health Team
Also, Check Out:
How To Choose a Name For Your Healthcare Team
Naming your healthcare team is pivotal in fostering solid and cohesive bonds. An outstanding name will capture the essence of your group and motivate all members to work together enthusiastically while promoting a sense of identity and respect. Here are some helpful hints for generating that perfect moniker for your medical squad!
Brainstorm – Assemble your healthcare team and brainstorm possible names. Allot sufficient time for everyone to share their thoughts, taking turns around the room. Listen actively as each member offers ideas, noting any suitable ones. Gathering together in this thoughtful way will ensure many potential solutions – making it easier than ever to come up with a perfect name!
Consider Your Team's Mission & Values – As you consider the values and mission of your healthcare team, think about a name that will stand for them. Everyone should agree on which name best reflects these principles – use it as a guiding star when making this decision!
Do Some Research – Nail down your list of desired team names, then do thorough research to guarantee that no other groups have the same name. This will make it easier for you and your healthcare team to stand apart from any competition or confusion.
Make It Memorable & Unique – If you're seeking a memorable name for your healthcare team, never fear – brainstorm beyond the ordinary and create something catchy and innovative. Whether puns, acronyms, or shared phrases within the brand name, experimentation can result in success!
Pick The Best Fit For Your Team – Once you have compiled ideas, whittled them down, and researched each in detail, it's time to determine the most suitable choice for your medical personnel. When taking this critical step, evaluate your team's mission, values, and objectives.
Your healthcare team's name should embody its spirit, generating a feeling of unity and purpose. With some inspiration and consideration, you can create a unique moniker that everyone on the team will be proud to share! Wishing you luck in finding the perfect fit for your crew!
Also, Check Out: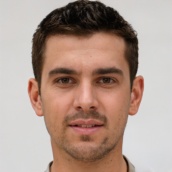 Greetings, I'm Alex – an expert in the art of naming teams, groups or brands, and businesses. With years of experience as a consultant for some of the most recognized companies out there, I want to pass on my knowledge and share tips that will help you craft an unforgettable name for your project through TeamGroupNames.Com!