Lacrosse, a sport with deep historical roots and a rapidly growing fanbase, is as much about skill and strategy as it is about team spirit and identity. One key element that unites players and fans alike is the team name, a symbol of pride, unity, and sometimes, a bit of fun.
In this comprehensive guide, we delve into the world of lacrosse team names, exploring a variety of styles, from the cool and professional to the funny and unique.
Whether you're starting a new team, rebranding an old one, or just curious about the creative process behind these names, this article is your go-to resource.
Lacrosse Team Names
When it comes to naming a lacrosse team, the possibilities are endless. Traditional names often reflect the team's location, mascot, or an aspect of the sport itself. These names not only resonate with local pride but also carry a sense of time-honored tradition and respect for the game. Let's kick things off with classic lacrosse team name ideas:
Lightning Laxers
The Falcon Flyers
Rapid Raptors
Stealthy Stickmen
The Mighty Mavericks
Thundering Herd
The Goal Getters
Crosscheck Champions
The Lax Lions
Braveheart Ballers
The Net Ninjas
Rapid Rebounders
The Stick Shifters
The Field Warriors
Lax Legends
Brave Sticks
Scoring Spears
The Raging Rhinos
Stick Savvy Squad
The Crafty Cradlers
Sprinting Shamrocks
Stick Wizards
Defending Dragons
Net Breakers
Agile Arrows
Ball Barrage
Quick Quivers
Dynamic Dodgers
Trailblazing Titans
Lacrosse Lancers
Cool Lacrosse Team Names
The term 'cool' in lacrosse circles transcends beyond mere trendiness; it embodies an attitude, a style, and an aura that sets a team apart. Cool lacrosse team names often incorporate elements of speed, agility, and a hint of intimidation, reflecting the dynamic nature of the sport. Here are cool lacrosse team names to inspire your team's identity:
Velocity Vipers
The Eclipse Enforcers
Cyclone Strikers
Stealth Snipers
The Thunder Thrashers
Blaze Battlers
The Tornado Titans
Frost Falcons
The Cosmic Crusaders
Shadow Spartans
Mystic Marauders
The Arctic Avengers
Inferno Invaders
Phantom Phalanx
Electric Eagles
The Riptide Raiders
Savage Storm
Vortex Vikings
Blitz Brigade
The Comet Commanders
Polar Predators
The Lunar Legends
Solar Sprinters
Nebula Navigators
Horizon Hawks
Starlight Strikers
Galactic Guardians
The Aero Aces
Tempest Troopers
Meteor Mavericks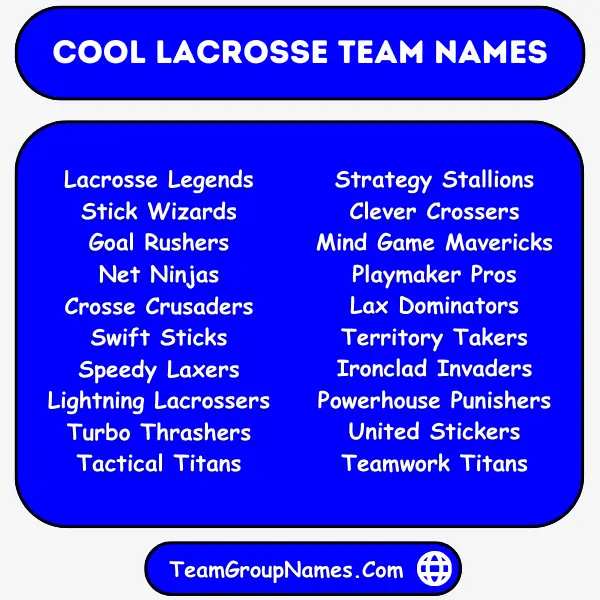 Cool names often reflect the energy and spirit of the team, making them memorable and impactful. They are more than just labels; they are a statement of the team's ethos and character.
Good Lacrosse Team Names
A good lacrosse team name does more than just sound appealing; it captures the essence of the team's spirit, ethos, and unity. It should be easy to remember, pronounce, and reflect a positive image of the team. Below are good lacrosse team name suggestions that embody these qualities:
Harmony Hawks
Unity Uplifters
Valor Vanguards
Pride Pioneers
Spirit Stalwarts
Honor Heroes
Integrity Idols
Courage Crusaders
Triumph Trailblazers
Respect Raptors
Dignity Dragons
Fortitude Falcons
The Ethical Eagles
The Noble Navigators
Fidelity Foxes
Wisdom Wolves
The Trust Titans
Virtue Voyagers
Sincerity Scorpions
Gratitude Gators
Justice Jaguars
Zenith Zealots
Karma Kestrels
Balance Badgers
Grace Gladiators
Zen Zephyrs
Hope Harriers
Serenity Spartans
Affinity Archers
The Amity Aces
Choosing a good team name is a process that reflects a team's identity and values. It's a name that players feel proud to wear on their jerseys and fans cheer for enthusiastically.
Funny Lacrosse Team Names
Sometimes, a bit of humor can be just what a team needs to stand out and create a fun, relaxed atmosphere. Funny lacrosse team names are great for intramural leagues, casual play, or just to bring a smile to fans' faces. Here are funny lacrosse team names that are sure to catch your attention:
The Jolly Sticks
Lax Lizards
Goal Diggers
The Crosse Checkers
Net Nincompoops
The Stick Figures
The Mirthful Meshers
Scoop Troopers
Chuckle Cradlers
Quirk Quivers
Giggling Guardians
Whimsical Whippers
Laughing Laxers
The Jovial Jukers
Hilarious Hawks
Silly Scoopers
Droll Dodgers
The Witty Wings
Comical Cradlers
Prankster Pivots
Amusing Arrows
Snickering Snipers
Jestful Jammers
Tickled Titans
Frolic Falcons
Chuckling Chasers
Grinning Goalies
Smiling Shamrocks
Jocular Jesters
Humorous Harriers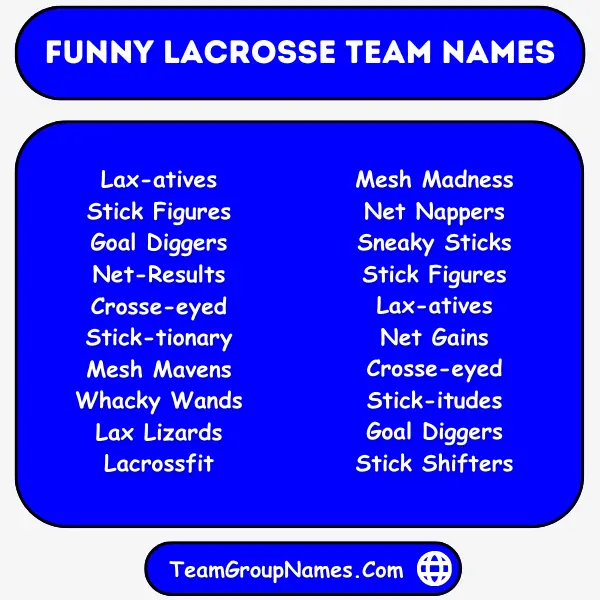 Funny team names not only lighten the mood but also add a unique character to the team, making them memorable in a sea of more traditional names.
Lacrosse Group Chat Names
In the age of digital communication, having a unique and catchy name for your lacrosse team's group chat is not just practical, it's a fun way to keep the team spirit alive off the field. Whether it's for coordination, sharing strategies, or just everyday banter, these group chat names are perfect for keeping your team connected:
Lax Chatter Box
The Cradle Crew
Scoop Squad Gossip
Goal Net Gabs
Stick Talk Central
The Mesh Messengers
Cradle & Chat
Lax Legends Lounge
The Cross Check Chats
Stick & Speak
The D-Pole Dialogues
The Netted Network
Cradling Conversations
The Lax Banter Base
Field Talk Forum
The Scoop Circle
Sideline Speakers
The Game Plan Gabfest
Stick Strategy Session
Mesh Meetup
Lax Lore Lines
Playbook Parley
The Faceoff Forum
The Crease Chatroom
Zone Defense Dialog
Fast Break Banter
Ground Ball Group
Midfield Meet
The Lax Linkup
Cleat Chit-Chat
A great group chat name can be a source of pride and a small but meaningful part of the team's culture, enhancing camaraderie and communication.
Check Out: Powerful Team Names
Best Lacrosse Team Names
A great lacrosse team name has the power to inspire players, unite fans, and create a lasting legacy. These names have been selected for their strong identity, originality, and the positive image they convey. Here are the best lacrosse team names that have made a mark:
Sovereign Strikers
Elite Endurance
Pinnacle Prowlers
Apex Attackers
Majestic Mavericks
The Supreme Sticks
Paramount Players
Zenith Zealots
Ultimate Unleashers
Titan Tacticians
Champion Chargers
Premier Pivots
Elite Enforcers
Prowess Predators
First Flight Falcons
Summit Scorchers
The Apex Arrows
Peak Performers
Crest Creators
Crown Crusaders
Prime Prowlers
Omega Operators
Top Tier Titans
Apex Allies
The Alpha Aces
The Summit Striders
Paramount Pursuers
The Peak Protectors
Ultimate Uplifters
Crowned Champions
These names represent the epitome of lacrosse team naming, blending elements of strength, superiority, and achievement.
Check Out: Hockey Team Names
Unique Lacrosse Team Names
In the diverse world of lacrosse, having a unique team name is a way to stand out and make a statement. These names are chosen for their originality, creativity, and the distinctive flair they bring to the sport. Here's a list of unique lacrosse team names:
Eclipse Ethereals
Mystic Marauder Mashup
Quantum Quicksilvers
Nebula Navigators
Galactic Goalgetters
Cosmic Cradlers
The Aurora Aces
Zephyr Zeppelins
Odyssey Outliers
Phantom Phantasia
Mirage Mavericks
Zenith Zephyrs
Vortex Voyagers
Polaris Pioneers
Stellar Strategists
Gravity Gliders
Warp Speed Warriors
Celestial Cyclones
The Orbit Outlaws
The Rift Raiders
The Ion Invaders
The Solar Sprinters
Comet Crusaders
Aurora Archers
Galaxy Guardians
Meteor Mashers
Starlight Strikers
Quantum Questers
Nebula Nighthawks
Celestial Centurions
Unique team names like these can become a part of your team's identity, setting the tone for the team's culture and playing style.
Check Out: Basketball Team Names
Professional Lacrosse Team Names
Professional lacrosse teams often choose names that reflect a sense of strength, agility, and professionalism, resonating with the competitive nature of the sport. These names are not just identifiers; they are powerful brands that embody the team's ethos and aspirations. Here are professional lacrosse team name ideas:
Valor Vanguards
Elite Executioners
Dynasty Defenders
Vanguard Victors
Legacy Leaders
Monarch Maulers
Empire Elites
Sovereign Strikers
Regal Raptors
Dominion Dynamos
Titan Tacticians
Crown Commanders
The Realm Rulers
Noble Navigators
Dynasty Dragons
Imperial Invincibles
Monarchy Mavericks
Elite Emperors
Supreme Strategists
Regent Raiders
Crown Crusaders
Imperial Impacts
Sovereignty Scorchers
Dominion Dominators
Monarch Mavericks
Elite Enforcers
Regal Rebounders
Dynasty Drifters
Crowned Champions
The Realm Rebels
Names like these not only project a professional image but also help in building a strong, recognizable brand for the team in the competitive landscape of professional lacrosse.
Check Out: Ultimate Frisbee Team Names
Lacrosse Team Name Ideas
Finding the perfect name for your lacrosse team can be a creative and enjoyable process. This section offers a diverse array of lacrosse team name ideas, catering to various themes and inspirations. Here are versatile lacrosse team name ideas:
Frontier Flyers
Blaze Blazers
Pinnacle Predators
Raptor Rebels
Cyclone Cyclists
Maverick Marauders
Falcon Fighters
Titan Trailblazers
Warrior Wanderers
Arrow Avengers
Summit Seekers
Comet Comrades
Thunder Thrivers
Lightning Legends
Storm Striders
Eclipse Explorers
Horizon Heroes
Peak Pioneers
Galaxy Gliders
Vortex Voyagers
Flame Falcons
Tornado Titans
Meteor Mavericks
Quasar Questers
Stellar Spartans
The Aurora Aces
Nebula Nomads
Zenith Zealots
Celestial Chargers
Orbit Outlaws
Whether your team favors a name that's powerful, playful, or profound, the key is to choose one that resonates with the spirit and identity of your players and supporters.
Check Out: Walking Team Names
Cool Lacrosse Names
Coolness in lacrosse names often reflects a blend of attitude, style, and a touch of swagger. These names are perfect for players who want to make a statement on the field with a name that's as dynamic as their gameplay. Here are cool lacrosse names:
Blaze Breaker
Maverick Maneuver
Stealth Striker
Raptor Rush
Cyclone Cutter
Eclipse Enforcer
Thunder Tracker
Vortex Viper
Phantom Pivot
Falcon Flicker
Comet Chaser
Shadow Sniper
Galaxy Gladiator
Storm Surfer
Zenith Zapper
Horizon Hurdler
Aero Ace
Quantum Quickstep
Solar Sprinter
Nebula Navigator
Meteor Mover
Lightning Lancer
Starlight Striker
Crest Crusader
Tide Turner
Peak Performer
Zenith Zoomer
Orbit Operator
Celestial Charger
Pinnacle Pursuer
These names are designed to embody the essence of coolness and individual prowess, perfect for lacrosse players looking to stand out on the field.
Check Out: Disc Golf Team Names
Lacrosse Nicknames
A great nickname can capture the essence of a lacrosse player's style, skill, or personality in just a few words. It's a badge of honor that can stick with a player throughout their career. Here are lacrosse nickname ideas, each reflecting a unique aspect of the player's persona or abilities:
The Dart
Quickstep
Iron Wall
Flash Flick
The Juggernaut
Ghost Move
The Tactician
Swift Shadow
The Maverick
The Fortress
Rapidfire
The Dynamo
The Enigma
The Prowler
Thunder Clap
The Sentinel
The Gladiator
Lightning Lance
The Oracle
The Wanderer
Stealth Surge
The Visionary
The Leviathan
The Trailblazer
The Eagle Eye
The Viper
The Titan
The Crusader
The Pioneer
The Phoenix
Nicknames like these not only add an element of fun to the game but also help in building a player's identity, both on and off the field.
Check Out: Cornhole Team Names
Lacrosse Names
Lacrosse is a sport of diversity, both in terms of the players and the styles of play. These 'Lacrosse Names' offer a wide range of options, allowing players and teams to find names that truly reflect their unique identities. Here are lacrosse names that capture the essence of the sport's diversity:
Blaze Stix
Fusion Flyers
Raging Rapids
The Lax Legends
Whirlwind Warriors
Shadow Shifters
Rapid Rippers
The Wave Watchers
The Sting Seekers
Blaze Breakers
Horizon Hurlers
The Fury Flames
Nova Navigators
Lightning Laxers
The Tornado Titans
Stealth Stingers
Comet Commandos
Eclipse Enforcers
The Ice Impact
Lax Luminaries
The Aero Arrows
Zenith Zephyrs
The Bolt Blazers
The Iron Icons
Maverick Maulers
Thunder Thrashers
Quake Crushers
Atlas Archers
Pulse Pioneers
Eclipse Elites
These names celebrate the diversity and dynamism of lacrosse, offering options that resonate with players and teams from all walks of the lacrosse world.
Check Out: Red Team Names
Lacrosse Bro Names
Lacrosse isn't just a sport; it's a brotherhood. These 'Lacrosse Bro Names' capture the spirit of camaraderie and teamwork that defines the sport. Whether you're part of a close-knit team or simply want a name that reflects the bond between players, these names are for you:
Bros on Bounce
Stick Brothers
Lax Lifelines
The Brotherhood Blazers
Cradle Comrades
Lax Legends League
The Mesh Mates
Lax and Laughs
The Crease Crew
Stick Squad
The Faceoff Fraternity
Lax Life Allies
The D-Pole Dynasty
The Scoop Society
Net Ninjas
The Cradle Clan
Ground Ball Gang
Lax Bros Unite
Goalie Guardians
The Clearing Crew
The Lax Linkup
Stick Together Tribe
The Midfield Mingle
Defense Defenders
Attack Alliance
Lax Liftoff League
Slide Squad
Lacrosse Lads
Penetrating Pals
Lax Link League
These names celebrate the bonds formed on the lacrosse field, reinforcing the sense of community and teamwork that makes the sport so special.
Check Out:
Tips to Choose the Perfect Lacrosse Team Name
Selecting the ideal lacrosse team name is a crucial step in defining your team's identity and creating a lasting impression. Here are some practical tips to guide you in choosing the perfect lacrosse team name:
Reflect Your Team's Personality
Consider the personality and character of your team. Are you known for your speed and agility, or perhaps your unbreakable defense? Choose a name that mirrors these qualities and showcases what makes your team unique.
Aim for Uniqueness
In the world of lacrosse, standing out is key. Strive for a name that sets you apart from the crowd. Avoid overly generic or common names, and instead opt for something that piques curiosity and captures attention.
Embrace Memorability
A memorable name is one that sticks in the minds of fans and opponents alike. Look for names that are easy to remember and pronounce. Avoid overly complicated or lengthy names that may be challenging to recall.
Consider the Spirit of Lacrosse
Lacrosse is a sport steeped in tradition and spirit. Think about names that honor the essence of the game and its rich history. Names that embody concepts like teamwork, agility, and determination often resonate well.
Involve Your Team
Get input from your team members when choosing a name. Involve them in the decision-making process to ensure everyone feels a sense of ownership and connection to the chosen name.
Check for Availability
Before finalizing your team name, perform a quick online search to ensure the name is not already in use by other lacrosse teams or entities. This helps avoid confusion and potential legal issues.
Test It Out
Say the name out loud. Does it roll off the tongue smoothly? Imagine it on jerseys and banners. Does it look good in writing? Testing the name in different contexts can help you evaluate its overall appeal.
Don't Rush
Choosing a lacrosse team name is a significant decision. Take your time to brainstorm, discuss, and evaluate options. Rushing the process may lead to a name that doesn't truly represent your team.
By keeping these tips in mind, you'll be well-equipped to select a lacrosse team name that encapsulates your team's essence and leaves a lasting impression on and off the field.
Check Out:
Conclusion
In this comprehensive guide, we've explored the exciting world of lacrosse team names. From cool and unique names to professional and bro-inspired options, there's a name for every team and player. Remember, the right name can inspire, unite, and become a source of pride for your lacrosse team.
Choosing the perfect name is just the beginning of your lacrosse journey. Embrace it, wear it with pride, and let it define your team's spirit and identity. Whether you're a seasoned pro or just starting, the right name can set the stage for an unforgettable lacrosse experience.
So go ahead, pick a name that resonates with you, and hit the field with passion, determination, and the spirit of lacrosse. Play hard, play fair, and always honor the legacy of this incredible sport.
Thank you for joining us on this naming adventure in the world of lacrosse. May your team name bring you countless victories and unforgettable moments on the field. Lacrosse on, champions!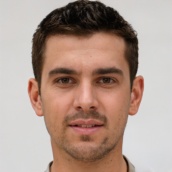 Greetings, I'm Alex – an expert in the art of naming teams, groups or brands, and businesses. With years of experience as a consultant for some of the most recognized companies out there, I want to pass on my knowledge and share tips that will help you craft an unforgettable name for your project through TeamGroupNames.Com!