Basketball is a sport that is enjoyed by people of all ages and abilities. Whether you are a casual player or a professional, having a good team name can add to the enjoyment of the game.
There are many different ways to come up with Basketball team names. You can use puns, wordplay, or even combine two words to create a new word. You can also use the name of your favorite player, coach, or team as inspiration.
Some Basketball team names are serious and reflect the competitive nature of the sport. Others are more light-hearted and meant to be fun. No matter what kind of Basketball team name you are looking for, there are plenty of options to choose from.
Here are some examples of Basketball team names to get you started:
Good Basketball Team Names
Creating a unique and memorable basketball team name can be a daunting task. It should evoke the spirit of the team, stand out from other teams, and give your players a sense of pride. To help you get started, here are some great basketball team names to consider for your squad.
The Eagles: This name symbolizes strength and courage, making it a great choice for any team looking to make a statement.
The Wildcats: This fierce name will definitely make your opponents take notice. It's perfect for any team looking to show their dominance on the court.
The Shooters: If you have a lot of talented scorers on your roster, this one is for you. Not only does it evoke images of precision shooting, but it's also a great reminder that your team is all about putting points on the board.
The Dreamers: If you're looking for a name to represent hope and ambition, this one should fit the bill. It's perfect for any team looking to achieve seemingly impossible goals.
The Avengers: This heroic name is sure to make your team stand out. It's ideal for any team looking to wreak havoc on the court and prove that they are an unbeatable force.
Fighting Scots
The Wolf Pack
In Style
The Intimidators
Elephants
Marlins
Lone Granger
Rimshots
Vipers
Tigers
Fighting Fish
Build The Wall
Let's Get Tropical
Afflalo Creed
The Crossovers
Jayhawks
Athenas
Bouncing Blobsters
No Time Out
Screw Balls
Lopers
Boing!
Out of the Ordinary
Wake and Blake
Net Ragers
Goldstein Girls
Falcons
Slim Reaper
Fighting Scots
Air Ballers
Royals
Silverswords
Wet Dream Team
Curry Up and Wait
The Kings: This regal name is perfect for any team looking to take charge of the court. With it, you'll be able to remind your opponents that you're the ones in charge.
The Fireballs: This dynamic name will make your opponents take notice. It's perfect for any team looking to add a bit of spark and excitement to their game.
The All-Stars: Let everyone know that you've got the best players in town with this one! Perfect for any team looking to show off their skills and make it to the top.
The Magic: This mystical name will capture the imagination of your opponents and make them wish they were on your side. It's ideal for any team looking to cast a spell over their rivals.
The Storm: If you're looking for a name that signifies power and strength, this one is for you. Perfect for any team looking to leave their opponents in the dust.
Cool Basketball Team Names
Coming up with a good team name for your basketball squad isn't always easy. Here are some ideas that could help spark your creativity when brainstorming:
Slam Dunkers – This one speaks for itself and is sure to get heads turning!
Half-Court Heroes – A great way to show off your dominance of the court.
The Rebounders – Show your opponents who's boss by dominating the boards!
Alley-Oopers – Get creative and show off your dunks with this fun name.
The Jump Shots – A classic basketball team name that speaks for itself.
Fast Breakers – A great way to show off your speed and agility on the court.
The Crossovers – Show off your skills by owning the crossover move!
Buzzer Beaters – Perfect for a team that loves close games that get decided in the last few seconds of play.
Hot Shots – A fun way to showcase your team's ability to make shots.
Wonder Boys
Rim Jobs
War Eagles
Cowbell Fever
Blue Boys
Court Rulers
Hall of Dame
The Wild
Game, Blouses
Alley-Oops
Wonder Boys
Bulldogz
Frank N Balls
Boll Weevils
Angels
Roadrunners
Dynamoes
Serge Protector
Golden Grizzlies
The Big Aristotle
Lowriders
Hoop Dreams
Judges
Generals
Zach it Up
Ball Boys
Basket Junkies
Artichokes
Red Dragons
Roundball Rock
Bombsters
Make It Drizzle
Bruins
Seminoles
Socceroos
Blake Superior
The Unicorns
Pippen Ain't Easy
Best Basketball Team Names
These are some best name ideas for basketball teams.
The Dunkin' Dudes
Hoop-la Heroes
Three Pointer Magnets
Basket Beasts
The Alley Cats
Swish Squad
Fast Break Fetishists
Flamin' Dunks
The 3 Ballers
Air Apparents
Triple Threats
Foul Mouthed Funsters
The Rim Rattlers
Slam Dunk Slammers
Full Court Pressures
Court Kings and Queens
The Rebounders
180-Degree Hoopers
The Jump Shots
Net Ninjas
Black Bears
Gladiators
Mud Hens
Personal Favors
River Hawks
First String Superstars
Bethel Royals
Savage Storm
Avengers
Hilltoppers
Zion Kings
Ball Don't Lie
Fast Breakers
Mud Hens
Easy Ridnour
Volunteers
Shady Dunkers
Chocolate Thunder
Pink Ballers
Rampage
Ball Stars
No Stealing
Afrostars
Lords
Blue Demons.
Beavers
Always on Deron
Backdoor Men
Batum Raiders
Spinners
Wonder Boys
Highlanders
James Of Thrones
We Got Game
Carisless Whisper
Planet Lovetron
The Hoopsters – A classic basketball team name that speaks for itself.
Swish City – Capture the feeling of a three-point shot with this great name!
Air Ballers – Make sure everyone knows you have one of the flashiest teams around!
The Jumpers – A great way to show off your ability to jump high on the court.
Showtime – Show that you're here to put on a show with this fun name.
Flippin' Fantastic – Another fun way to capture the spirit of basketball with a creative name.
Girls Basketball Team Names
The range of team names for girls' basketball teams varies greatly. Some are fun and lighthearted, while others take a more serious tone. Here is a list of some popular girls' basketball team names:
Hot Shots: A perfect suggestion for the confident players who never miss their shots!
Lady Ballers: A great suggestion for teams that want to show they mean business on the court.
Sweet Shooters: The perfect name for teams with talented shooters who can put points on the board.
Fireballs: Girls basketball teams with a burning passion for success will love this fiery name!
Lady Gladiators: A great name for the strong, relentless players who fight hard on the court.
The X-Celerators: Girls basketball teams that are fast and agile will love this high-energy name!
The Jaguars: A great suggestion for a team with a strong, powerful presence on the court.
Lady Spartans: Show off your team's strength and courage with this ancient name!
The Dreamers: Girls teams with big dreams of success will love this inspirational suggestion!
The Sparklers: Let your shine bright with this sparkling name choice!
Cadets
Basketeers
Lady Balls
Wiggins Out
Pacers
Quick Silver
Huskers
The Intimidators
Impossible Shots
Monta's Inferno
The Oles
Crusaders
Foresters
Greivis Angel
Dragic Jack
Jae Walker
Ball Lives Matter
Saxons
The Bosh Pit
Chargers
Fighting Irish
Mountaineers
Netty Shots
Tritons
Storm Serge
Cougars
Predators
Fusion
Artichokes
Easy Win
Funny Basketball Team Names
Basketball team names are an integral part of the game. Not only do they represent a team's identity, but they also give fans something to cheer for. Here are some funny and unique basketball team names that will make your opponents laugh:
The Rejects – This is a great choice for teams that don't take themselves too seriously.
The Dunkaroos – A catchy name that's sure to get everyone's attention.
Slammin' Sampans – This name is perfect for a team that loves to slam the ball into the hoop.
Airheads – A punny choice for a team that loves to hang around the rim and soar.
The Half-Court Heroes – A clever name for a team that only needs half the court to dominate.
The Swishful Thinkers – Perfect for a team that puts serious thought into their game strategy.
The Ball Busters – A perfect name for a team that never takes it easy on the court.
The Bouncin' Bunnies – A fun name for a team that loves to jump around the court.
The Full-Court Pressers – Ideal for a team that likes to press their opponents full-court all the time.
The Ballers of Fortune – A great choice for a team that's always got luck on their side.
Ankle Breakers
Zebras
Indiana Pacers
The Matadors
The Brigade
Sooners
Central
Golden Flashes
Nothing but Net
Shortlings
Swing Men
Beal Good Inc.
Knickerbockers
Aces
Wild Kittens
Bricklayers
Boxed Out
Argonauts
Toronto Raptors
Big Baller Band
Underrated Superstars
Socceroos
Gorillas
The Lancers
Firebirds
Golden Eagles
Pride
Zig Zaggers
Toronto Drakes
Fighting Leathernecks
Raging Bulls
Penguins
Bruisers
High Impulse
Alley Oopsies
Sky Force
Double Dribblers
Beal With It
Creative Names For Basketball Team
Here are some creative and unique basketball team name ideas.
Synergy
Warriors
The Gerballs
Grizzly Balls
Amigos
Mules
Ball Don't Lie
Bosh Ladies
Titans
Air Ballers
Dream Team
Someday Starters
Basketeers
Shockers
Knicks
Clippers
The Dirk Knight
Panthers.
Ravens
The Perfectos
Cereal Killers
The Crush.
Rockettes
Outlaws
Volcanoes
Bricklayers
Young Shelvin
The Pros
Read Also: Leadership Team Names
Unique Basketball Team Names
These are some creative and unique team name ideas.
Phoenix Suns
Hustlin' Owls
Bruins
Runnin N Gunnin
Flight Time
Rimshots
Bethel Royals
Average Joes
Bosom Buddies
Backbenchers
Black Bears
Little Giants
Lizards
High Tops
Sphincter Stars
Dons
Ice Angels
Shooting Stars
Fighting Scots
Banana Slugs
Vixens
Ospreys
Captains
Violet Offenders
Wildcats
Watermalone
Youth Basketball Team Names
Here are some best youth basketball team names.
Raptors
Continentals
On Da Rebound
High Tops
Air Jordans
Gang Green
Buckeyes
The Minxs
Bombers
Blaking Bad
Pioneers
Mavericks
Pirates
True Ballers
Llamas
Violate Me
he Mad Ants
True Ballers
The Pony Tails
AmazeBalls
Running Rebels
The Wingfoots
Angels
The Big Baller Band
The Unicorns
The Lancers
Flying Dutchmen
The Ligers
Hacky Shaqers
Ball-Stars
Roaring Tigers
Belieb It or Not
Majors
Bol Movement
No Sympathy
Penguins
Barnstormers
Read Also: Motivational Team Names
Basketball League Names
These are some best and cool basketball league names.
The Bandits
Heart Stoppers
Basketball Jones
Deng Girls
Huskers
Knicks
Jaguars
The Darko Knight
Grasshoppers
Heart Stoppers
Bobcats
Bengals
Black Cobras
Grabbing Assets
The Unicorns
Can't Touch This
Zero Violations
Let's Get Tropical
Matadors
Gators
Untouchaballs
Brigade
Atomic Biyombos
Patriots
Crushers
Nothing but Net
The Panthers
Spinners
Bearcats
Barnstormers
Basketball Team Name Ideas
Here are some unique and best names for the basketball team.
Gaels
Energy
Stars And Scars
Full Court Pressure
Highlanders
Basket Hounds
United
The Crusaders
The Outsiders
The Rimshots
Cougars
Steal 4 Real
Badass Butterflies
Men Of The Sky
Cyclones
Gothams
Aresenal
Zoners
Ball So Hard
Hoop There It Is
Mud Hens
Wildcats
The Defending Champs
The Braves
Monarchs
Maybe This Year
Crimson Tide
Bosh Spice
Heroes
Rockettes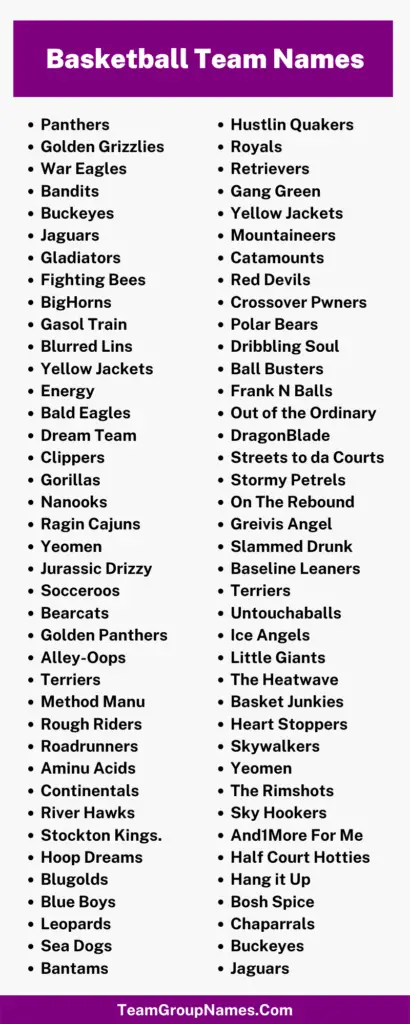 Basketball Team Names Generator
Flying Squirrels
Alley-Oops
Testosterone
Jedi
Basket Junkies.
The Insurmountable
Make It Drizzle
Geeks and Sneaks
Tarzans
Scarlet Knights
Sugar Bees
Commodores
Shockers.
Golden Flashes
Fast And The Furious
Slammed Drunk
Nothing But Net
The Ligers
Fade and Win
Strawberry Jam
Hoopers
Trojans
Savage Storm.
Reddies
Read Also: Powerful Team Names
Basketball Group Chat Names
Loul & Order
Flyers
Defenders
Number 1 Fan
The Wolf Pack
Ball Hoggers
Stampede
Skywalkers
The Leopard Skins
No Time Out
Jail Blazers
Savage Storm
Black Knights
Hoosiers
Hoops I Did It Again
Sooners
Griffins
Red Rockets
Buzzer Beaters
Spirit
PG-13 Weeks
Dribbling Soul
The Insurmountable
Thunderbirds
Stormy Petrels
Valentines
Fantasy Basketball Team Names
Hang it Up
Giraffes
Houston Rockets
Fightin' Hens
Boing!
Moranting and Raving
Marlins
Battlers
Utah Jazz
Skyhookers
Golden Tornadoes
Wonder Girls
Vipers
Golden Bears
Cougars
Big Ballers
Westerners
The Perfecto's
Roaring Tigers
Jumpshot Hustlers
Not Of This World
Monarchs
Profs
The Crusaders
The Bucks
Run, Shoot, Steal
ThunderWolves
Catchy Basketball Team Names
Minx
It's Like BOOM
Foresters
Enes Envy
Rams
Sycamores
Synergy
In the Zone
Polar Bears
Detroit Pistons
Majors
Bombers
Knicks
And One
Bulldogz
Fire Ballers
Dub Shots
Lugnuts
Jayhawks
Cougars
Muff Divers
Generals
Ja Rules
Leopards
Red Foxes
The Tribe
Dirty Cheetahs
Squirrels
Red Raiders
Golden Panthers
The Benchwarmers
The Stags
Hot Shots
Washington Wizards
Battlers
Robo Squad
Owls
Read Also: 
How To Name Your Basketball Team
Pick a name that reflects the competitive nature of the sport: The Basketball Kings, The Basketball Queens, or The All-Stars.
Choose a name that is inspired by your favorite player, coach, or team: The LeBrons, The Kobe Bryant's, or The Chicago Bulls.
Create a pun or wordplay: The Alley-Oops, The Slam Dunkers, The Three-Pointers.
Combine two words to create a new word: The Basketballers, The Ballers, or The Hoopsters.
Think of a name that is unique and different: The Basketball Bunch, The Crazy Shooters, or even The Funky Basketball Players.
Whatever Basketball team name you choose, make sure it is something that you and your teammates are proud of. It should be a reflection of your team's personality and style of play. Basketball is a game meant to be enjoyed, so make sure your team name adds to the fun.
How To Choose a Name For Your Basketball Team
Choosing a name for your basketball team can seem like an intimidating task. It's important to pick something that honors the spirit of the game and reflects the personalities of each individual team member. Here are some tips to help you pick the perfect name for your squad:
Consider Your Team's Personality – Pick a name that best reflects the spirit of your team. Are you a group of fierce competitors? Choose something with grit and determination, like "The Wolverines" or "The Spartans". Or maybe your team is more laid-back and relaxed. Opt for a playful name like "The Sloths" or "The Dunkin' Donuts".
Get Creative With Your Name – Brainstorm catchy and unique basketball team names. Try using puns, plays on words, or even a combination of two words to come up with something completely original. For example: "The 3 Pointers" or "The Free-Throws".
Make It Memorable – Keep your name short and sweet so that it sticks in the minds of fans and opponents alike. Names like "The Dream Team" are easily remembered and have an impactful meaning behind them.
Get Input From Your Teammates – Ask your teammates for their thoughts when coming up with a name for your team. After all, the name should reflect each person's individual personality. Consult with your team to come up with something that everyone loves!
Research Your Name – Before you settle on a name, make sure to do your research. Make sure that the name you pick isn't already in use by another team or organization.
Have Fun With It – The key to choosing the perfect basketball team name is to have fun with it! Brainstorm, collaborate with your teammates, and enjoy the process. With a little creativity and effort, you'll come up with something that perfectly represents your squad.
Choosing a name for your basketball team doesn't have to be stressful. With these tips, you can come up with something that everyone loves and is memorable. So go ahead, get creative, and don't settle for anything less than the perfect name for your team! Good luck!
Conclusion
Choosing a Basketball team name is a fun way to show off your team's personality. There are many different options to choose from, so take your time and find the perfect fit for your team. Be creative, have fun, and enjoy the game!
Read Also: