When crafting usernames, shorter is frequently the more practical choice. Not only are they easier to recall and less likely to be swiped by another individual, but their appearance on profile pages looks more polished than a longer name would provide. Moreover, these briefer names appear tidier when featured across other social media applications.
Short usernames have a variety of advantages. Firstly, they are more memorable than longer usernames, allowing people to find and follow each other on social media platforms easily. Furthermore, short usernames are less likely to be taken by someone else when registering for websites – an essential factor in the digital world! Finally, short usernames look better on profile pages and other sites – helping you stand out from the rest of the crowd.
If you're keen on creating a short username that is easy to remember, some tips and tricks may be helpful. For example, a great approach could be selecting something related to yourself while condensing it into a more compact version.
To construct a secure and unique username, consider combining relevant words associated with the purpose of your account or service. If you are creating an online gaming profile, for instance, then "gamer," "game," and even titles from specific games could be used as part of your user name to increase security further.
If you have a memorable phrase that is particularly meaningful to you, consider utilizing acronyms, as it allows for the formation of a unique username with minimal characters. Not only is this memorable, but also effortless to recall!
Feel free to get creative and think outside the box. Brainstorm words that represent who you are or your passions and combine them! For example, if a website has character limits for username creation, consider using symbols and numbers in place of some letters instead.
Crafting a unique yet concise username is crucial to establishing yourself online. With a pinch of creativity and the correct methodology, you can generate a great short username that will distinguish you from every other user. So let these ideas serve as your springboard on your journey toward creating a perfect handle!
Short Usernames
PixieGem
LunaSkye
EmberAce
ZenFrost
NovaBlaze
SwiftStorm
AquaBloom
StarLush
VibeWise
ChillPulse
PixelCharm
EchoSoul
DreamWeave
MysticWhirl
SunRayz
CosmicWisp
ShadowSonic
FlameFury
OceanEyes
SkyDancer
LavaFlow
MoonGlow
StarDust
NightOwl
Sunflower
FrostBite
SeaSpray
FireFlyer
WildHeart
PixelGuru
TechNinja
ArtWiz
MusicMaven
Bookworm
FoodieFrenzy
FitnessFreak
TravelBug
AdventureAce
Fashionista
GamerGenius
MovieManiac
NatureNerd
PetLover
DIYDiva
ComedyQueen
Cool Short Usernames
SportsFanatic
BeautyBabe
MindfulMeow
CraftyCraze
PlantParent
HistoryBuff
ScienceSavvy
WanderlustWish
CreativeCrush
SocialSiren
HealthyHabits
SpiritualSoul
TrendyTales
PoliticalPundit
PixieDust
StarGaze
SimplyMe
BoldlyGo
DreamWeave
MysticMind
InkedFingers
OceanBreeze
WildHeart
SkyWalker
TrueNorth
SunKissed
MoonChild
WanderLust
HappyHiker
CoffeeCraze
BookWorm
ArtisticSoul
MusicMaker
JoyfulJourney
FitnessFrenzy
LoveLifeLaugh
PassionPursuit
SpiritualSeeker
TechTrendy
Good Short Usernames
SweetTooth
NatureNinja
BeachBumming
FoodieFrenzy
PixieDust
NeonGlow
SkyHigh
Starlight
Moonbeam
Sunflower
NightOwl
SeaBreeze
MysticMind
DreamWeaver
FireFlyer
MagicMarker
HoneyBeez
ElectricEcho
AquaAura
BlazeBright
CosmicCrush
WildWanderer
HappyHiker
AdventureAce
NatureNinja
ZenZephyr
PixelPenguin
DaringDolphin
CoolCactus
PrettyPanda
SillySeal
FunkyFlamingo
Swiftly
PixelPals
Zipperz
TinyTunes
SnappySnap
BoldBite
ChirpyChat
Simple Usernames
FizzFizz
FluffyClouds
WinkWink
PopcornPopper
ZippyZap
DizzyDaze
SpotOn
BuzzyBee
GigglyGoose
PogoPenguin
TwinkleToes
HappyHippo
JazzyJaguar
ChattyCat
MightyMouse
SillySeal
FunkyFalcon
SnazzySquirrel
DreamyDeer
WittyWolf
CrazyCrab
CleverCheetah
PixiePop
AceGamer
SunnySoul
BlueBirdy
CoolKid
HappyHiker
StarStruck
NeonNinja
SweetTooth
MoonMuse
SwiftSwimmer
BoldBabe
DreamDasher
WhimsicalWanderer
SnazzySneaker
FlamingoFanatic
ElectricEagle
DaringDolphin
JungleJazz
CosmicComet
Short Username Ideas
OceanOasis
WildWillow
MysticMermaid
FoxyFrenzy
CuriousCat
SwingingSpider
FunkyFlamingo
WackyWalrus
GlitterGoddess
PixelPenguin
InkLion
NeonNinja
CosmicCat
QuirkyKangaroo
BlueberryBee
ElectricElephant
MoonlightMouse
StarrySquirrel
SunnySeahorse
DaringDragonfly
MysticMoose
GigglingGiraffe
WhimsicalWhale
BreezyButterfly
FuzzyFox
PlayfulPanda
SpunkySloth
ChirpingChickadee
JazzyJaguar
RusticRabbit
CoolCobra
FlyingFish
GreenGecko
SillySnail
TinyTurtle
ZigzagZebra
PeppyPenguin
PixyPetal
BlueBolt
NeonNinja
SwiftSoul
FizzyFizz
QuirkyQueen
ZenZephyr
SunnySkye
CosmicCactus
OceanOasis
LunaLark
MysticMuse
SilverStorm
VelvetVixen
ElectricEcho
Also, Check Out: Alt Usernames
Cute Short Usernames
GoldenGlow
SilentShadow
CoolCrush
FrostyFlame
SpicySugar
BreezyBloom
GlitterGem
DreamyDusk
TwistedTulip
FunkyFern
ShimmerShade
CherryCharm
SassySparrow
PixieGlow
ZenFrost
LunaBlaze
SwiftSpark
NeonNinja
DreamWeaver
CosmicComet
MagicMuse
MysticMoon
StarSiren
ElectricEmber
EnigmaEagle
SkySurfer
BlazeBolt
AquaArrow
NightNebula
FireflyFlame
MysticMeadow
OceanOracle
ShadowShifter
SolarSailor
ThunderboltTiger
NatureNymph
Creative Short Usernames
FrostFox
SunshineSprite
SkylineSavior
StormySeas
WaveWalker
PixiePop
NeonNinja
AceArrow
BubbleBee
CosmicCat
DreamDiver
ElectricEmu
FireFlyer
GalaxyGazer
HappyHiker
IceInferno
JazzyJester
KrazyKangaroo
LunarLlama
MysticMermaid
NightNinja
OceanOtter
PixelPenguin
QuickQuail
SolarSailor
ThunderTiger
UrbanUnicorn
VelvetVixen
WildWolfie
XtremeXplorer
Also, Check Out: Baddie Usernames
Unique Short Usernames
YellowYak
ZanyZebra
PixelPals
Snapster
ArtifyMe
TechTonic
DreamWeaver
CodeCrush
Chillaxer
StarGazer
SkyWalkerX
FireFlyerz
MusicMaven
GameGenius
MindMelds
FoodieFrenzy
WanderLust
SportsFanatic
NatureNerd
StyleSavant
FitnessFreak
ThrillSeeker
LaughOutLoud
HappyCamper
BrainyBabe/Buddy
MovieManiax
TrendSetterz
CreativeCraze
InstaInsider
ColorCoded
PetPalooza
HealthyHabits
PixelPenguin
MoonMuse
TechTurtle
JazzJunkie
StarGazer
AquaAce
FireFlyer
AngelicArrow
CloudChaser
InkedIris
NatureNerd
MysticMoth
UrbanUnicorn
CosmicCat
WanderlustWolf
PixelPilot
OceanOwl
MysticMermaid
Best Short Usernames
NeonNinja
MountainMaverick
SkySurfer
StarryNight
FirePhoenix
ZenZebra
DreamyDove
SunsetSailor
TechTiger
CrystalCove
EmeraldEagle
AuroraArrow
PixieGlow
InkedUp
TechNinja
Moonstone
Starlighter
NeonSpark
SwiftStorm
MysticMuse
PixelPenguin
DreamWeaver
CosmicComet
SilverStreak
ChillChick
FireflyFlash
OceanOracle
SnowySphinx
Thunderbolt
WildWillow
ZenZebra
AquaAce
BoldButterfly
MoonChild
StarGazer
SkyWalker
Sunflower
BeachBabe
MountainMan
Also, Check Out: Unique Usernames
Small Usernames
NatureLover
AdventureAwaits
Wanderlust
DreamChaser
MusicMaker
ArtisticSoul
Fashionista
FitnessFanatic
FoodieForever
TechGenius
Bookworm
MovieBuff
GamerGirl/Guy
PetLover
CreativeMind
HappyHearted
PositiveVibesOnly
BoldAndBrave
ThoughtfulThinker
CuriousCat
SpiritualSoul
AmbitiousAce
CoffeeAddict
PixelPenguin
LunarLion
SunsetSailor
MysticMuse
ForestFox
SeaSpray
NeonNinja
ArcticArrow
BlazeBolt
CosmicCrafter
DaringDragon
EnigmaEagle
FlamingFalcon
GoldenGazelle
HarborHawk
Short Usernames For Instagram
IronIris
JungleJaguar
KnightKangaroo
LightningLlama
MoonlitMoth
NinjaNectar
OceanOrca
PixelatedPhoenix
QuirkyQuetzal
StarrySwan
ThunderTurtle
UrbanUnicorn
VibrantVulture
WildWolf
PixelPenguin
NeonNinja
TechTiger
DreamyDaisy
CosmicCat
SunnySquirrel
ElectricEagle
AquaAce
BlazeBee
MysticMoose
FlashFalcon
ChillCheetah
GoldenGorilla
SwiftSwan
WiseWolf
LuckyLion
BraveBear
HappyHippo
FunkyFox
StealthShark
WildWeasel
GroovyGiraffe
SpunkySloth
SavageSeal
CleverCrab
RockinRabbit
FierceFeline
Also, Check Out: Savage Usernames
Best Short Username Ideas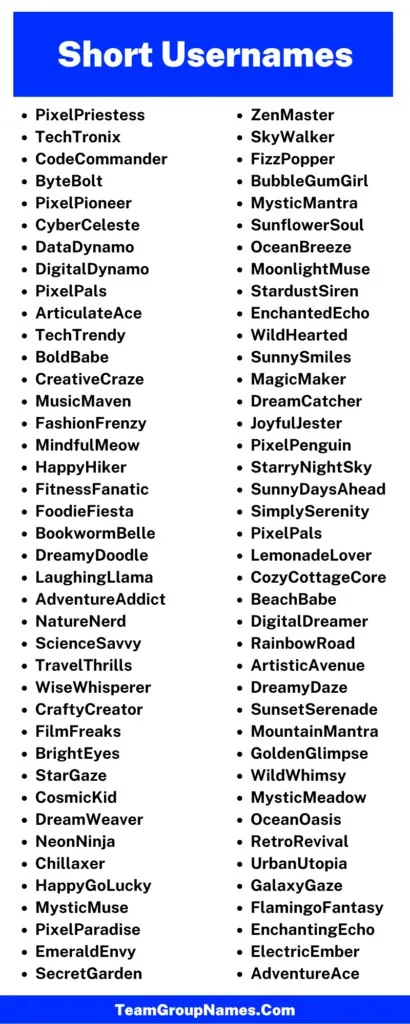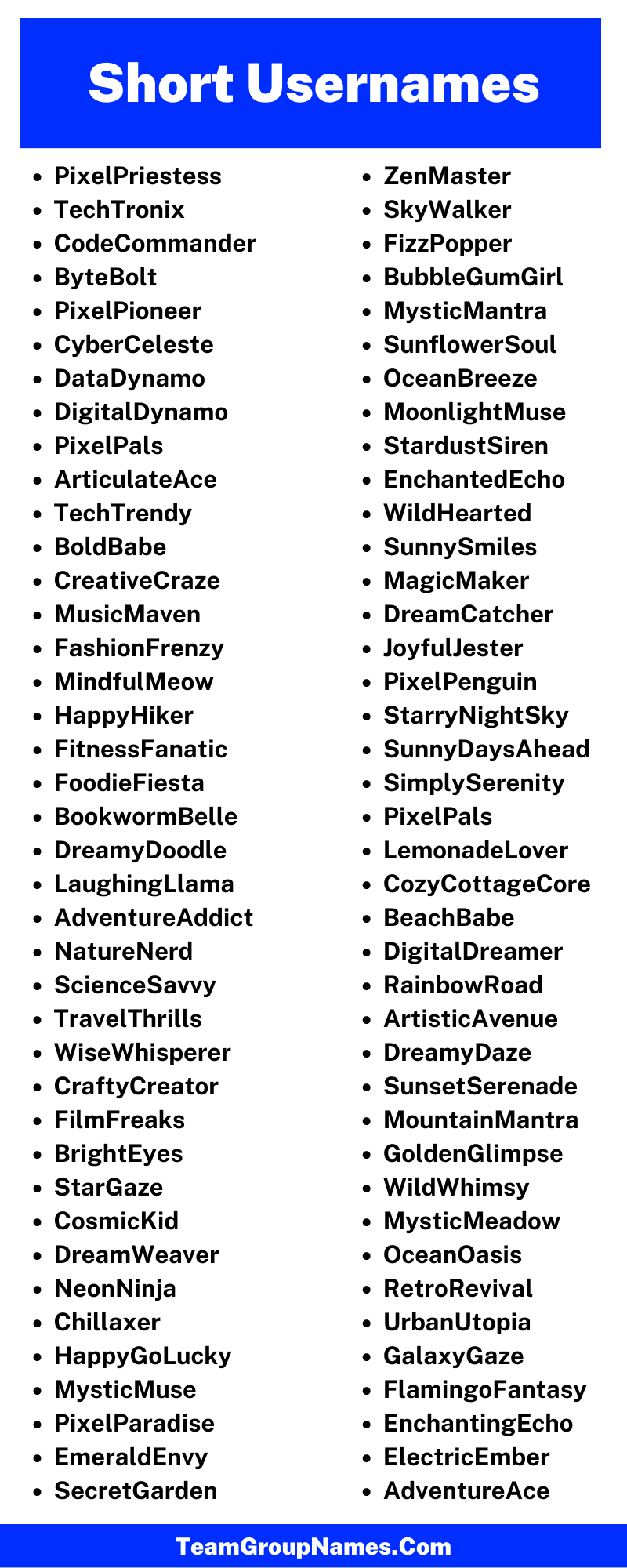 DaringDeer
SassySnail
PixelPunk
TechTonic
ByteBabe
CyberSiren
CodeCrush
DigitalDiva
WebWizard
ByteBoss
PixelPal
GeekGoddess
TechTitan
CodeCraze
ByteBuddy
PixelPro
CyberChic
WebWarrior
DataDame
CodeCutie
DigitalDreamer
ByteBeauty
Also, Check Out:
How To Choose Short Usernames
Crafting a unique username for online accounts is often an early step in the sign-up process. Since usernames frequently become your virtual identity, it's vital to opt for one that reflects you as an individual but is still easy to recall and share.
Short usernames are undeniably a great option to make it easy for others to remember and locate you. However, even though they may be shorter than your name or full username, these names still accurately convey who you are. When choosing a short username, there are some essential guidelines to follow:
When selecting your username, pick something that best expresses your identity. When choosing a name, remember to ponder your interests, passions, and profession. Remember to incorporate favorite colors or symbols into the mix too! Make it unique and expressive – this is the time for creativity!

Ensuring your spelling is accurate and precise guarantees that people can easily find you online, while poor spelling may lead to misunderstandings and miscommunication between friends and colleagues.

Set yourself apart by abstaining from words that have been overused in other usernames. This will help you shine and simplify for people to recall your username.

To preserve a positive atmosphere, abstain from using language that could be deemed offensive or inappropriate, regardless of your intentions.
Narrow down your username ideas by utilizing an online generator tool. These tools can craft hundreds of unique usernames, incorporating a mix of words, numbers, and symbols, so you're sure to find just the right one for you! With these tips in mind, you'll be well on your way to finding the perfect short username! Good luck!
Also, Check Out: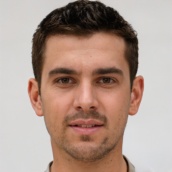 Greetings, I'm Alex – an expert in the art of naming teams, groups or brands, and businesses. With years of experience as a consultant for some of the most recognized companies out there, I want to pass on my knowledge and share tips that will help you craft an unforgettable name for your project through TeamGroupNames.Com!