Picking the perfect moniker for your friends or coworkers is vital to a great spring escapade. Coming up with something memorable that unites everyone and makes the trip even more enjoyable is essential. To help you create an awesome name, here are some tips on selecting one:
Brainstorm: Unite your team in an engaging activity and generate creative ideas for a group name. Feel free to write down any suggestions that come to mind, no matter how trivial they may appear! You will discover the remarkable power of combining just a few words into something captivating. Even the most outlandish concepts can awaken unique new possibilities everyone will enjoy!
Consider Your Group: Are you a gang of adventurers, buddies on an epic road trip, or family members experiencing the great outdoors? Consider who comprises your team and devise a name everyone can identify with. Brainstorm ideas and carefully consider them until you find one that suits you!
Play With Words: Unleash your ingenuity and craft a team title that will be tough to top! Harness the power of wordplay with clever rhymes, puns, alliteration, or any other whimsical monikers you can imagine. This is an excellent way to express yourself and adds humor and style to the equation. So don't hesitate – to get creative when naming your team!
Look Up Inspiration: If you need more ideas, research some existing names for motivation. Somebody else may have already come up with a great name that can serve as an initial point of reference and then construct upon!
Follow these tips, and you'll have no issue crafting an outstanding spring team name for your crew. And remember to make it fun – after all, why embark on a grand journey if you can't take pleasure in the experience? So here are some excellent team name ideas to get you started:
Spring Team Names
Jumpin' Jacks

Blooming Buddies

Marching Monkeys

Spring Hummingbirds

Spirited Sprites

Mighty Marigolds

Breezy Bees

Rainbow Riders

April Angels

Frolicking Frogs

Sunny Surfer

Cherry Blossoms

Field of Flowers

Spring Sprouts
Blossoming Beauties
Green Giants
Bud Breakthroughs
The Sunflowers
The Tulip Titans
Cherry Blossoms
Lily League
Hyacinth Hurricanes
The Pansy Posse
Narcissus Ninjas
The Peony Pals
Iris Intrepids
Magnolia Mavericks
Azalea Avengers
Wildflower Warriors
Blossom Brigade
Rose Revolutionaries
Marigold Mavericks
Poppy Powerhouses
Zinnia Zingers
Dandelion Daredevils
Hibiscus Heroes
Lilac Legends
Daisy Dream Team
Buttercup Brawlers
Heather Heralds
Spring Sprinters
The Blooming Bunch
Sunny Side Up
Blossoms and Buzz
Chasing Rainbows
A Breath of Fresh Air
The April Showers
Robins on the Rise
Spring Group Chat Names
Are you seeking unique and inventive team chat names to spice up your discussion threads? Look no further! We've compiled a comprehensive list of the most creative spring-related monikers that will invigorate any conversation. From florals to bunnies, here are our top picks for fun and unique team names perfect for any spring chatroom:
Flower Power
Petal Pushers
Parading Peacocks
Finding Fawns
Buds of Change
Blossom Boosters
Sun Seekers
Leafy Legends
Nature Nuts
Spring Flingers
The April Hares
The Wildflowers
Warblers United
Flamboyant Flamingos
Marvelous Marigolds
New Beginnings
Sprout Scouts
Blooming Beauties
Coloring Butterflies
Wisteria Warriors
Renewed Roots
Life in Bloom
Spring Storms
Blooming Blossoms
Fresh Flyers
Green Giants
Spring Sprinters
Dandelion Dashers
Tulip Titans
Rainbow Racers
Sunny Surfers
Cherry Chefs
Lilac Lions
Butterfly Brawlers
Meadow Mavericks
Dragonfly Dynamos
Puddle Jumpers
Petal Pushers
Catchy Spring Team Names
Spring is the perfect season to revitalize and energize your team! So whether you plan on forming a kickball or softball squad at work or just seeking inspiration for your fantasy league's name, this list of creative spring team names can help.
Clover Crew
Vine Victors
Seasonal Sweepers
Flora Fighters
Marching Monarchs
Bees Knees
Morning Glories
Breezy Blazers
Sprout Squad
Sunflower Soldiers
Garden Gladiators
Peony Power
Raindrop Raiders
Wildflower Warriors
Honey Bees
Leafy Lions
Flowering Frogs
Bright Butterflies
Sun Smiles
Summer Sprouts
Buzzing Bumblebees
Daisy Ducks
Blossoming Bears
Blossom Birds
Spring Sprites
Monarch Magic
Hummingbird Honeys
Bloomin' Buttercups
April All-Stars
Springtime Spinners
The Highlighters
Beautiful Blooms
Cool Cucumbers
Fantastic Fawns
Cheerful Chickadees
Blooming Buds
Also, Check Out: Winter Team Names
Spring-Themed Team Names
As the temperature rises, it's time to awaken your creative juices and create an inspiring team name for this upcoming season! We have some excellent ideas that will make a lasting impression if you need inspiration. So whether you're looking for something humorous or original – look no further than here, where creativity knows no bounds!
The Spring Chickens

Blooming Bats

The Rainy Day Dreamers

The April Showers

Grasshoppers

Butterflies

Daisies

Bumblebees

Lilac Lancers

Seedlings

The Dandelions

Primrose Punishers

Frogs On A Log

Tulip Troopers

Hyacinth Hometown Heroes

Crocuses

The Honeybees

Garden Gnomes

Lilies Of The Valley

Mint Mojos

Daffodils In Bloom

April Showers
Renewed Resources
Sun Seekers
Warm Wonders
Floral Friends
Flower Power
Radiant Rays
Also, Check Out: Adventure Group Names
Creative Names For Spring Team
If you're looking for an original and eye-catching name for your spring team, look no further! Here are some innovative ideas to help make sure that you have a unique and unforgettable brand:
Spring Thaw

The Flower Power

Buds & Blooms

Spring Flingers

Bluebirds of Happiness

Flowering Falcons

The Rainbows

Lucky Charms

Crocuses & Daisies

Mighty Marigolds

Meadow Makers

Green Dreamers

Butterfly Brigade

Freshest Flowers

The Tulips

Lilac Lovers

Daffodils Unite

Sunbeams & Smiles

Primrose Pals

Garden Greeters

Petal Patrol

Violets of Victory

Spring Blossoms

Chirpy Champs
Leafy Legends
Blooming Boys & Girls
Garden Gurus
Meadow Mutts
Sun Smiles
Spring Peepers
Flower Power – For those passionate about flowers and all things spring-related.
Blooming Buddies – An excellent choice for groups of friends who love to spend time together in the blooming season.
Bunnies on the Loose – A perfect choice for an online chatroom full of wild and energetic members.
Sunshine Squad – An excellent option for those who consistently bring extra sunshine to any conversation.
Spring Fling – An upbeat name that will start any group chat on the right track.
Also, Check Out: Travel Group/Team Names
Spring Break Group Chat Names
If you need a creative, witty team name for your group this spring break, look no further! From puns on famous idioms to current trends in pop culture – we've got the perfect nicknames that will ensure all eyes are on your squad.
The Breakaways

The Sunshine Crew

Margarita Mamas

Party Animals

Spring Breakers

Getaway Gangsters

Island Hoppers

Beachy Keeners

Vacation Ninjas

Break Bunch

Sandy Feet

Coastal Cruisers

Siesta Squad

Surf Sirens

Board Babes

Poolside Pals

Tropical Divas

The Salty Dogs

Beach Boys & Girls

Spring Flingers

Paradise Posse

Hot Springers

Vacay Vibers

Spring Sprinters
Soaring Spirits
Grass Gators
Fresh Picked Friends – This one is perfect for friends looking to make new memories this spring.
Petal Patrollers – For those passionate about exploring nature's beauty during the season of renewal.
Sprouting Spirits – An excellent choice for an online chatroom full of positive energy and optimistic vibes.
The Buttercups: A cute and cheery name reflecting springtime blooms' joy.
April Showers: Perfect for rainy days during the spring season – add umbrellas!
Also, Check Out: Couples Team Names
Spring Event Names
If you're looking to throw an unforgettable special occasion this spring, you need a great team name that everyone will remember! Here are some inspiring ideas for your ideal lineup:
Spring Flingers

Cherry Blossoms

Birds of Paradise

Daffodil Divas

Magnolia Mavericks

Sunny Side-Ups

Flower Power

Lilac Lovers

The Buttercups

Tulip Tumblers

Green Thumbs Up

Spring Chickens

Petal Patrol

Blooming Beauties

Spring Spectaculars

Rainbow Rangers

Breezy Bunch

March Mavens
Also, Check Out: Flag Football Team Names
Spring Fitness Challenge Names
Need to ignite your staff's motivation and energy this spring? Why not give them a team name that resonates- humorous, inspiring, or creative? Whatever fits their personalities best. We've got the perfect selection of vibrant spring-themed characters for any outdoor fitness challenge you're hosting or just general encouragement toward overall health:
The Blooming Blossoms

Green Thumbs Up

Fit as a Fiddle

Cardio Crusaders

Fresh Air Fanatics

Spring Striders

Sprinters of Sunshine

Rainy Day Runners

The Flowers of Fitness

Budding Bodies

Weathered Warriors

Nature Ninjas

Fit Friends Forever

Spring Into Action!

Jumping Joggers

The Sun Saluters

Outdoorsy Olympeans

Grassy Goodbye Blues

Breezy Bodacious Babes & Boys
Also, Check Out: Bocce Ball Team Names
Spring Team Name Ideas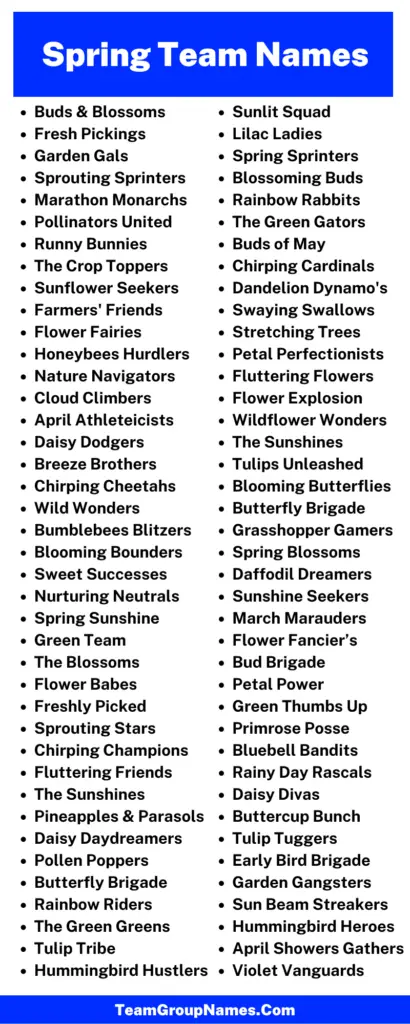 Blazing Bunnies: Bunnies emerge from hiding in the spring and move fast!
Fresh Buds: For those who want to celebrate new beginnings with their team name.
Sun Smugglers: Everyone loves a good bit of sunshine, and these smugglers embrace it!
Daffodil Divas: Celebrate the bright yellow blooms that bring spring alive with this name.
The Blossoms: A beautiful name for a team in full bloom!
Flamingos: Not typically associated with springtime, but they are pink and fun so why not?
Green Machines: For teams who are ready to take on the competition – and win!
Spring Chickens: Refers to someone "full of energy," which is perfect for a new team looking to make their mark.
Also, Check Out: Ultimate Frisbee Team Names
How To Choose Spring Team Names
Naming your team can be a difficult task, particularly when it comes to spring sports. However, spring is all about reawakening and growth, so selecting an inspiring name that embodies this spirit of renewal is essential. Here are some tips for inventing innovative and seasonal team titles:
Brainstorm – Gather your colleagues and brainstorm clever team names! Generate creative ideas by questioning, such as "what animals or items make you think of spring?". This will inspire everyone to come up with unique answers to lead the group in the perfect direction.
Research – After your squad has drafted a list of potential team names, do some digging to ensure your chosen name has yet to be taken. For the sake of avoiding any confusion for other teams or spectators, don't settle on an overused title.
Test them out – As you narrow down your choices, getting feedback from others is essential. Testing the names out on different people will allow you to determine how each name resonates with them and can ultimately help guide your final decision-making process.
Decide – After studying the feedback and research. To ensure everyone has an opportunity to voice their opinion, narrow your selections down to three or four names and vote on them as a team. That way, you can choose the final spring team name together!
Have fun – When selecting your team's name for the spring season, have a great time with it! Choosing an uplifting and spirited title will help you begin the season energized and motivated. Enjoy this exciting process as your team grows closer together.
Now that you are armed with these tips, it's time to take action and choose an awe-inspiring spring team name. So, gather your teammates together and commence brainstorming right away! Best of luck in your endeavor!
Also, Check Out: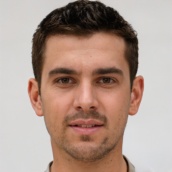 Greetings, I'm Alex – an expert in the art of naming teams, groups or brands, and businesses. With years of experience as a consultant for some of the most recognized companies out there, I want to pass on my knowledge and share tips that will help you craft an unforgettable name for your project through TeamGroupNames.Com!