Are you looking for the perfect music trivia team names? Look no further! Music trivia is a fun and entertaining way to test your knowledge of music. It's a great activity that can bring friends, family, or coworkers together for some friendly competition.
When it comes to naming your music trivia team, there are endless possibilities. You can choose a clever pun, a reference to a popular song or artist, or even something related to the genre of music you specialize in. The options are endless and sometimes overwhelming.
To help you out, we have compiled a list of some creative and catchy music trivia team names that are sure to make your opponents sing a different tune.
Music Trivia Team Names
Tuneful Terrors
Clef Climbers
Note Navigators
Rhapsody Rebels
Symphony Surfers
Harmony Heros
Cadence Crew
Tempo Toppers
Melody Mavens
Bassline Bosses
Soundtrack Superstars
Riff Riders
Percussion Pioneers
Tempo Trendsetters
Sonic Boomers
Pitch Pals
Noteworthy Names
Chorus Champions
Verse Virtuosos
Music Majesties
Disc Divas
Rhythm Rulers
Octave Overlords
Blues Brothers
Jazz Jokers
Rock 'n' Roll Rebels
Pop Princes
Country Kings
Heavy Metal Heads
Indie Idols
Motif Moguls
Rondo Ravers
Chant Champions
Aria Avengers
Cadence Conquerors
Acapella Aces
Lyrical Legends
Ballad Bosses
Jingle Juggernauts
Anthem Avengers
Music Trivia Team Name Ideas
Punk Pioneers
Baroque Bandits
HipHop Heroes
Soul Survivors
Funky Monkeys
Reggae Royals
Gospel Gurus
Disco Dancers
Bluegrass Bandits
Electronica Experts
Opera Overachievers
Rap Rebels
Salsa Swingers
Tango Titans
Waltz Warriors
Cha-Cha Champs
Samba Stars
Mambo Masters
Folk Fanatics
Swing Swaggers
Ragtime Royals
Grunge Gurus
Bop Bosses
Calypso Kings
Polka Pals
Ska Superstars
New Wave Whizzes
Emo Elites
Vinyl Veterans
Cassette Crusaders
Record Runaways
CD Commanders
MP3 Magnates
Stereo Stompers
Bass Boosters
Treble Triumphers
Keynote Kings
Interval Invaders
Tempo Trailblazers
Melisma Magnets
Funny Music Trivia Team Names
Treble Makers
Pitch Perfect
The Rolling Tones
The Beat-le Maniacs
The Clef Hangers
Sharp Shooters
Bass-ically Brilliant
The Harmonious Hipsters
Noteworthy Knights
Rhythmic Rebels
Melodic Maestros
The Key Signatures
The Tempo Tantrums
Pitch Slapped
Major Minors
Accidental Winners
The Crescendo Crew
The Acafellas
Sync or Swim
Backstreet Bards
Syncopation Station
Forte Fortissimos
Baroque-n Records
Allegro Band
Quaver Quizzers
Scale Setters
The Note Nomads
Arpeggio Artisans
Semibreve Scholars
Rest Wreckers
Check Out: Trivia Team Names
Classic Rock Trivia Team Names
Rolling Stoners
Grateful Head
Pink Freud
Led Zeppe-Liners
Guns and Posers
Aerosmarty Pants
The Who-dunits
Quiz Zeppelin
Queen of Trivia
Fleetwood Mac-n-Cheese
AC/DTrivia
Deep Purple Haze
Eagles Eyed
Dire Quiz
Beatle Brains
Clash of the Questions
Metallic-ha!
Black Quiz Sabbath
Def Leprosy
Trivia Doors Down
Lynyrd Skilled-nards
Jimi Answers
Journey to the Center of Trivia
The Rolling Quiz
Bon Jovi Buffs
Iron Trivia Maiden
Tom Trivia Petty
The Police Puzzlers
Van Trivia Brown
The Beatles Brainiacs
Check Out: The Office Trivia Team Names
Music Team Names
Serenade Superheroes
Lullaby Luminaries
Overture Outlaws
Fugue Fighters
Symphony Superheroes
Concerto Crusaders
Sonata Stars
Fantasia Fanatics
Etude Elites
Suite Savages
Madrigal Mavericks
Cantata Conquerors
Tone Poem Titans
Nocturne Nobles
Requiem Renegades
Opera Oracles
Symphony Surfers
Quartet Queens
Duet Dukes
Solo Sultans.
The Treble Makers
The Harmonizers
The Melody Masters
The Rhythm Rockers
Beat Beaters
Lyric Lovers
Soundwaves Squad
Chord Crushers
Pitch Perfects
Tempo Titans
Check Out: Disney Trivia Team Names
90's Music Trivia Team Names
Octave Officers
Score Scorers
Presto Prodigies
Chord Cordials
The Motown Motifs
Groove Gurus
Beethoven's Brainiacs
Sync or Swim
Riddle Rhythms
Fret Not Friends
The Grace Note Group
Measure Masters
Harmony Hive
The Key Signatures
Aural Aces
Clefver Clues
Tempo Tenors
Echoing Enigmas
Jazz Hands Jamboree
Pizzicato Puzzlers
Fermata Think Tank
Backbeat Boffins
Crescendo Crew
Blues Clue Crew
Pitch Pipe Pundits
No Strings Attached
The Trill Seekers
Tuneful Trivia Titans
Jukebox Geniuses
The Record Breakers
Check Out: 90's Trivia Team Names
Music Themed Trivia Team Names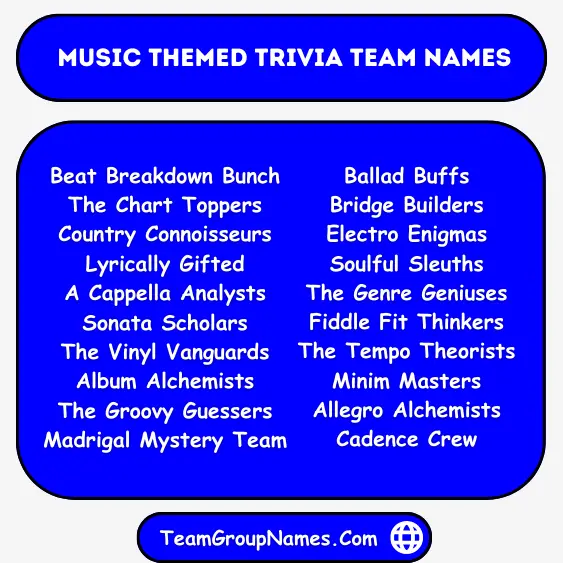 Treble Makers
Clef Hangers
Beatlemania Maniacs
Pitch Perfect Pals
Riff Raff Rebels
The Rolling Know-It-Alls
Quizart and the Magic Flutes
Rock 'n' Scroll Scholars
Bassline Brains
Coda Conductors
Harmonious Hunches
Fortissimo Fanatics
Lyric Legends
Alto Egos
Trivia at the Disco!
Note-orious Thinkers
Crescendo Crusaders
Pop Quiz Poppers
The Baroque-n Records
The Sharp Minds
Melodic Maestros
Syncopation Sensations
The Sound Check-mates
Quizical Scales
Acapella Answerers
Allegro Alchemists
Hip Hop Hypotheses
Adagio Academics
Rest Assured Rockstars
Dynamic Dynamos
Check Out:
Tips to create the perfect Music Trivia Team Names
Music trivia has been around for decades, and it continues to gain popularity with each passing year. Whether you're a music enthusiast or just looking for a fun way to spend an evening with friends, participating in a music trivia night is always a great idea.
One of the most important elements of any successful trivia team is having a clever and creative team name. Not only does it add an element of fun to the game, but it also helps your team stand out from the rest.
If you're struggling to come up with a memorable and catchy name for your music trivia team, here are some tips to help you create the perfect one:
Incorporate famous song titles or lyrics: A great way to make your team name stand out is by using a famous song title or lyrics as inspiration. Get creative and try to come up with a pun or clever play on words using well-known songs.
Use musical terms: Another option is to use musical terms in your team name, such as "Treble Makers" or "Pitch Perfect". This not only showcases your love for music but also adds a touch of sophistication to your team name.
Add humor: Don't be afraid to add some humor to your team name. Funny names are always memorable and can make any trivia night more enjoyable.
Consider the genre/theme: If you have a specific genre or theme in mind, try to incorporate it into your team name. For example, if you're a fan of classic rock, come up with a name that pays homage to your favorite bands.
Keep it short and simple: A catchy team name doesn't have to be long or complicated. In fact, shorter names are often easier to remember and stand out more than longer ones.
Get creative with puns: Puns are always a hit when it comes to team names. Try to come up with a clever play on words using musical terms or artists' names.
Use alliteration: Another way to make your team name more interesting is by using alliteration. This means having two or more words in the name start with the same sound, like "Fantastic Fugue Fighters" or "Melodic Maestros".
With these tips in mind, you're sure to come up with a memorable and unique music trivia team name. Just remember to have fun and let your creativity flow! So go ahead and pick one of the names from our list or use it as inspiration to create your own. Good luck at your next music trivia night!
Check Out: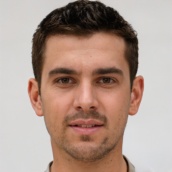 Greetings, I'm Alex – an expert in the art of naming teams, groups or brands, and businesses. With years of experience as a consultant for some of the most recognized companies out there, I want to pass on my knowledge and share tips that will help you craft an unforgettable name for your project through TeamGroupNames.Com!